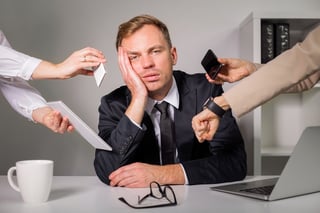 Are you having doubts about your current position? Do you feel unmotivated, or unhappy in your current role? It may be time to make a career change. Though change can sometimes be scary, your happiness and professional success is what's most important.
How can you make sure that it's time to move on from your current role? Here are some common reasons why professionals leave positions.
1. Not Challenging Enough
If you feel like your talent and skills are being wasted because your current job is not challenging enough, that's a sure sign that it's time for a career change. You may have taken a position that is too junior in comparison to your education or professional background, or you may have simply outgrown your current role. Either way, if you feel like your position is not challenging enough, then it's time to make a change.
2. Unsatisfying Tasks
Another sure-fire way to know that you need to make a career change is when you find your everyday job responsibilities or tasks unsatisfying. Unsatisfying work can result in lack of motivation to do your job. If you're feeling unmotivated, and your current position does not fulfill your needs, change careers.
3. You Feel Unappreciated
Let's face it – you may not have the most appreciative or motivating boss in the world. You may also not be in a position to obtain an annual pay increase. Like it or not, these factors can influence how you feel about your workplace. If you're feeling unrewarded, most candidates will leave their role for a new one, in hopes of filling this void.
4. Stressful Work Atmosphere
The number one reason why professionals change careers is because they feel their current role is too stressful. Stress can negatively impact your health. When it all seems too much, you know it's time to take a step away and look for a new job.
5. You're Unhappy
If you're truly unhappy at work, then you need to do something about it. Life is too short. Take that leap of faith and start a new career. It's that simple.
If you feel like it's time to make a career change, apply to Liberty Staffing Services today! We can help you find work. We offer general labour, warehouse, industrial, and office work throughout Ontario. Liberty Staffing connects great people with great jobs!