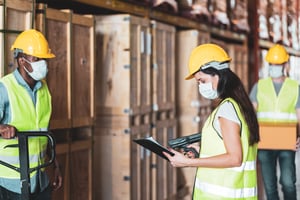 COVID has brought on many "new normals" for businesses. Many employees are working remotely. Employers are required to complete health and wellness checks for their staff members. The pandemic has changed the working world as we know it.
Are you currently hiring for your company? As a business owner or human resources professional, the second wave of COVID has brought about many new staffing challenges.
Here are some new staffing challenges that companies are facing right now, and how Liberty Staffing Services can help solve your staffing issues.
High Unemployment
Unemployment is at an all-time high, which means that you're receiving hundreds of resumes from candidates that are not qualified for your role. Unemployed people are applying to any job opportunity in hopes that they will gain employment. Their finances are stacking up and they need to pay their bills.
There's no need to sift through hundreds of resumes to find the perfect fit for your open position. By partnering with Liberty Staffing, you can save your business time and money. We will take care of the recruitment process for you!
Your Permanent Employees Want to Work Remotely Again
After the first wave of COVID subsided, many employers asked their employees to slowly transition back from working remotely to working back in the office. So in this second wave, and as the number of COVID cases rises, you're probably seeing many of your permanent employees asking/wanting to work strictly remotely once again.
If this is your current situation, hiring temporary workers through Liberty Staffing Services would be a great option for your business. You can hire temporary workers to work in-house with you (while following all required health and safety practices), and your permanent workers can come back when they feel comfortable.
Your Employees May Ask to be Temporarily Laid Off
This COVID situation could just be too much for some of your permanent workers. It can really take a toll on your mental and physical health. Everyone is coping differently in this pandemic. Some of your permanent employees may ask to be temporarily laid off until COVID case numbers decrease. This leaves you with open roles to fill.
Liberty Staffing can provide you with qualified candidates quickly, when and where you need them.
High Turnover of Employees
Since you have an essential business, and your staff members are frontline/essential workers, your employees have been working hard around the clock to meet production demands. Think about the workers that have stuck with you since the start of the COVID-19 pandemic. If you are experiencing a high turnover of employees, you shouldn't be surprised. Your staff is tired and burnt out!
Liberty Staffing Services can help reduce turnover at your company.
Right now, staffing in-house can seem like a nightmare. Let Liberty Staffing Services help you fill your open positions. Outsourcing temporary staffing through Liberty Staffing Services will relieve you of the expense and time involved with internally managing recruitment functions. Contact us today!