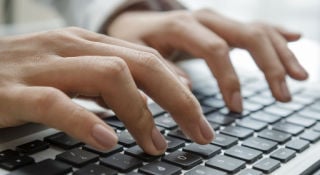 Data entry specialists do essential work for their employers. It's a job that requires you to be attentive to detail, careful, and fast. Because it's not physically labor-intensive, it's a great option for people looking for a traditional "desk job."
Whether you're looking for temporary data entry work or permanent, full time or part time, Liberty Staffing can help you find the right position.
Contact Liberty Staffing today to take the first steps toward a career in data entry.
What is Data Entry?
Data entry specialists may also be known as data entry clerks. These individuals are hired to manage the processing of data from paper and digital forms into a business's data management system. This is usually done through a desktop or laptop computer, using a keyboard and whatever software the business has chosen to use. In the past, much of this involved taking the information from handwritten, paper forms and entering it into a computer program. However, today's data entry specialists are far less likely to read handwritten text on physical paper.
Instead, when handwritten forms are collected in places like schools, banks, medical offices, and businesses, the data specialist will scan the documents and then utilize an Optimal Character Recognition or Optical Mark Recognition (OCR or OMR) system.
This technology automatically reads and processes the information on those forms. Data entry clerks ensure the accuracy of these computer-generated documents, correct errors as needed, and create excellent records for their employers to use.
Industries That Need Data Entry Specialists
Some industries require immense amounts of data to be processed and stored.
Examples include health information technology, law firms, billing offices, human resources departments, banking and financial services, logistics departments, and marketing.
Because these industries need data entry clerks, there are usually open positions, regardless of the time of year or region. During some seasons, there will be an increase in positions because of seasonal work.
Many data entry jobs are remote, which opens the door to even more available positions, regardless of where you live.
Job Skills to Develop for a Data Entry Position
If you want to get a job in data entry, there are some skills that you need to have, and a few that aren't required but look great on a resume.
Meticulous Attention to Detail
In data entry, everything comes down to accuracy. It's important to be able to do the work quickly, but doing it accurately is even more essential.
Learn to quickly notice and correct errors that have been made by individuals or a piece of software, because this is the most important responsibility of a data entry worker.
Ability to Stay Focused
Data entry specialists have to handle a lot of information and data, quickly. Staying focused on the task at hand will keep you meeting deadlines on the job.
If you are easily distracted, this may not be the job for you. Distractibility leads to mistakes and mistakes slow you down.
This is especially true for remote workers. Working from home brings a new batch of distractions that aren't in the workplace. You may get to enjoy a more flexible workday, but don't let distractions at home ruin your productivity on the job.
Adaptability–Especially With New Technologies
Right when you master one platform, app, or software program, you may end up having to learn a new one.
Every day, technology changes, contracts end, and software needs to be updated. Being quick on your feet when it comes to new technology is a must-have skill for data entry specialists.
Prepping Your Data Entry Resume
A resume for a data entry position will need to reflect certain skills and experiences that other jobs don't require.
For example, you will want to include your typing speed. If your typing skills are subpar, you will have a much harder time getting a data entry job. If you've got great typing skills, be sure to show that off on your resume!
You should also emphasize your ability to work well on a team, respond to supervisor feedback, and communicate easily with coworkers and supervisors alike.
Ready to Find a Data Entry Job? Liberty Staffing Will Help
Most of the time, data entry applicants don't need to have any special training or experience in the field before applying for an open position.
However, competition can be tough for entry-level jobs, and your application needs to be effective. Working with a staffing agency increases your chances of finding a great position because the staffing agency can see your strengths and help to communicate those to potential employers.
Liberty Staffing helps job seekers find great opportunities, including data entry positions. Our network of contacts runs deep, and we know what to look for when matching employees and employers.
Contact us to learn more about how we can get you started as a data entry specialist.