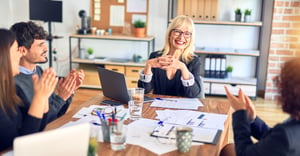 Studies continue to show that employees who are satisfied with their jobs are happier, more productive, and even more loyal to their employers. Creating engagement for your team could convince them to stay on longer.
That might get you wondering, what about your temporary workforce? If you hire temporary workers on a regular basis, knowing there are people who would gladly work with you time and again can be a relief.
Download our whitepaper to see how we solve our clients' evolving staffing issues
Yet temporary team members are only with you for a short time, so how can you inspire them to be engaged, productive, and loyal?
Liberty Staffing offers quality temporary staff members. Try some of the following tactics.
Recognize Great Efforts
One of the best things any employer can do is recognize their team's hard work and effort. Celebrate accomplishments with team members. If someone does outstanding work, make sure to offer recognition. Congratulate team members for finishing a challenging project or rising to the occasion when a problem crops up.
Recognition happens in many different ways. It may mean sending out an email or creating an award. It could mean offering someone a small prize or reward, such as a gift card.
Sometimes, even a simple "thank you" can be recognition for your team members. It tells them that you see the efforts they're putting in day in and day out.
Listen to Feedback
Another way to inspire loyalty in your temporary workforce is to ask them for their opinions. Get their insights on processes and procedures, or ask them to complete a survey.
The next step is even more important. Show them you're listening by taking their opinions into account. Make changes based on the feedback you receive, when and where possible.
If you show your team members you value their ideas, they'll be more invested in the company, and the work.
Work with a Staffing Firm to Hire for Fit
Before you worry about inspiring loyalty in your team members, you should be thinking about hiring for cultural fit.
Hiring for cultural fit allows you to find people whose values align with your company's. These people are more likely to share in your work philosophy, and they'll probably feel more engaged with your company culture. When the values of an employer and worker align, workers often feel increased loyalty and connection to their employer.
When you work with a staffing agency like Liberty Staffing, you can find the right people for your team at the right time. Our team will work with you to locate workers who align with your company culture. Hiring for fit will pinpoint not only the right people for your team, but people who are the right fit for your company.
Focus on Training and Development
Your temporary team may be with you for only a short period, but that doesn't mean you can't be involved in helping them further their careers. They might have been hired on for one specific task, but if opportunities for training and development are available, you should encourage them to participate.
How can this inspire loyalty? Team members who feel like you care about them are more likely to be motivated and engaged at work. Temporary workers will likely be more motivated to apply for additional job openings you have in the future, and they could recommend others to work at your company.
Use Temporary-to-Permanent Hiring
If you really enjoyed having a temporary worker on your team, consider moving them into a permanent role, if one is available.
You can present this option to every temporary worker you bring on. In turn, they'll be more motivated to turn in good performances.
There are plenty of steps you can take to create loyalty within your temporary workforce, and plenty of reasons to do so. If you're ready to get started with better temporary hires, get in touch with Liberty Staffing today!