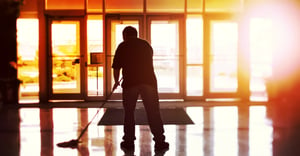 For some businesses, hiring is the last thing on their mind. For many employers, the hiring demand has shifted to new areas. Instead of thinking about office workers or new accounting staff, you're looking for more hands to staff a busy warehouse or more janitorial workers to bring your facilities to new standards in sanitation.
The question remains. How can you be sure you're recruiting the best warehouse workers or janitorial staff? This is particularly tough for businesses that haven't hired a lot in these areas and are now facing huge competition to get the best candidates.
Download our whitepaper to see how we solve our clients' evolving staffing issues
Luckily, these ideas will help you recruit the most talented workers with ease.
Partner with a Leading Staffing Agency
The first step you can take is to team up with someone who has the knowledge and experience you seek. Partnering with a leading staffing agency like Liberty Staffing Services is often the right move for that reason.
Our team has worked with many businesses to address their hiring needs in all areas. That means we have plenty of experience hiring warehouse staff, janitorial staff, and more.
When you team up with us, you're bringing our expertise and experience on board. That means we'll help you find the talent you need to fill your open positions quickly.
Create an Employee Referral Program
Your next move might be to create an employee referral program. Great employees often associate with like-minded people. If they love working with you, they're more likely to refer others to work for you too.
You can incentivize this program to encourage your existing warehouse workers or janitorial staff to make recommendations. Keep in mind that not everyone who is recommended will be a great candidate, but referral programs do tend to have high success rates.
Develop Criteria for the "Ideal" Worker
What skills does the ideal warehouse worker have? What experience should a janitorial worker have? Think about the traits you'd like in your new employees. Education, experience, and training are all important, but don't forget about soft skills or traits like being a self-starter.
These people often succeed in warehouse or janitorial roles. Once you've had a chance to write down the traits that your new team members should have, you can compare applications and interview notes against this "ideal." In this way, you'll be in a better position to pick the best candidates.
Consider Offering Some "Perks"
If you want to get the best people to apply to your open roles, you must be competitive with other employers. There's high demand for warehouse workers and janitorial staff right now.
You also want these people to consider your company if you make them a job offer, and you'll probably want them to consider you again if another role comes up. You might even want some of them to recommend other employees or to consider a permanent position with you.
To that end, you'll want to be sure you're offering the right compensation package. Benefits, competitive wages, and other "perks" can go a long way in convincing a candidate that you're the right company to work for. If you want the top talent, then you need to be the top employer.
Advertise in the Right Places
Finally, make sure you're putting your job ad in the right places. The job search has moved largely online, so you might want to consider some online outlets. There could be specialized sites or networks for these particular positions.
Start Right Now
If you know you're going to need more warehouse workers or janitorial staff, then there's no time like the present to get started.
Get in touch with Liberty Staffing Services today to start looking for your next great warehouse/janitorial worker!