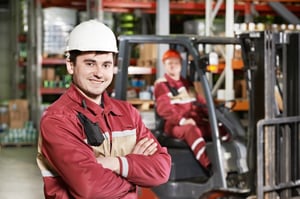 Whether you need to find and hire forklift operators for a loading dock, a warehouse, or another type of job site, strong qualifications are critical. Your new forklift operators must be qualified in order to maintain a safe work environment and a high level of productivity.
Though driving a forklift might seem relatively simple to the outside observer, you know that this lifting machine can pose serious danger to health and safety if left in the control of an unskilled, inexperienced operator.
There's a lot of responsibility that comes with operating a forklift, not only for the safety of the operator himself, but also for nearby employees, for the integrity of the transported merchandise, and for the reputation of your company. When these machines are used, standard operating procedures and general workplace safety practices must be followed. The operator needs to know load capacities, speed limits, maintenance and repair procedures, turning radiuses, proper hazardous material handling, proper parking, and other important practices. In addition, forklift operators may be responsible for establishing specific foot traffic policies, providing awareness training for non-operators and more. There's no doubt that the forklift operators you hire need to be qualified.
Due to the skills and experience required to safely operate a forklift and the dangers that the job poses, you really should let professionals handle the hiring. You'll be glad you did.
Help Identifying Talent
When you need such a specific set of skills, such as years of forklift driving experience with your type of forklift, industry experience, specific training, licenses, permits, and accreditations, experience with hazardous materials, cranes or booms, and more, it can be difficult to even figure out exactly where to start looking for qualified applicants. Where do you search for these types of professionals? Online job boards probably won't result in many applicants. There aren't really networking events for warehouse workers. And you might not have any referrals to count on.
When you need help identifying and recruiting this type of talent, a niche staffing firm dedicated to the industrial sector is the first place you should go. These agencies spend years building relationships with the exact type of specialized workers you're looking for, so you won't have to search any longer to find the new employees that you're looking for.
Faster Hiring
Forklift operator recruiters at a staffing firm can be valued assets on your search. When you're looking to hire a forklift driver, you can be placing a major strain on productivity until the position is filled. Since only certified personnel can assume this responsibility, you can't have just any other employee take over the work. And the vacancy can result in scheduling issues and a number of delays that can damage your reputation, hurt your customer service, and reduce your bottom line.
Even though you realize the importance of filling this position quickly, you might not have the time required to go through your in-house hiring process any faster. It takes time to write job descriptions, review resumes, interview and train. And making a poor hiring decision in haste isn't a better alternative option, either.
A staffing firm can ensure faster hiring of industrial workers. Because a niche agency will already have qualified forklift drivers in its candidate pool, ready and able to work right away, you'll be able to cut through much of the hiring process and go straight to hiring. The position will be filled quicker, so the vacancy won't have such a negative impact on your productivity.
Instead of trying to find and hire qualified forklift operators on your own, you should engage a niche staffing agency instead. When you engage the professionals to do the work, you'll benefit from better candidates and faster hiring.