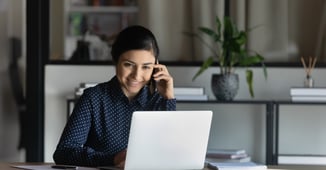 Many roles have gone remote, and that's going to continue in 2021. Many experts are saying that we can expect some roles to stay remote permanently, post COVID.
One of those roles may be administrative. Virtual Assistants were becoming more popular even before the pandemic, but they're more in-demand than ever.
Download our whitepaper to see how we solve our clients' evolving staffing issues
That means HR staff must adapt to a new way of hiring and onboarding remote administrative talent. We've rounded up our best tips to help you get started successfully.
Define the Position and Build Your Job Ad
Your first step to hiring and onboarding remote administrative talent is to define the position. What will the successful candidate do in this remote position? What are you expecting of them?
There may be some tasks that Remote Administrative Assistants cannot handle, since they're off-site. There could be other tasks the employee can take on instead.
You should define their working hours, including any schedule flexibility, as well as the expectations and the equipment they'll need. Think about skills, experience, and training as well.
Next, build your job advertisement around these details. Be sure to add information about your business, including a pitch for why they should consider you. What perks do you offer? Are you a small business working with cutting edge technology, or are you a larger business that offers more benefits? Don't forget to identify your company culture.
Use the Right Networks
Next, you'll need to advertise your job. You might think about posting on sites like Indeed or LinkedIn. Keep in mind that posting on the best and most popular job board sites does not mean that you'll find the candidate that you're looking for.
Work with a Staffing Agency
The easiest way to find qualified candidates quickly is to team up with a staffing agency like Liberty Staffing Services. Our team has plenty of experience matching open positions with the right candidate, and locating skilled candidates in general. We have a large database of professionals who are ready to work. Liberty Staffing can also help you screen and interview applicants, so you can obtain an ideal candidate as soon as possible.
Communicate Often
Remember that a prospective employee's experience with your business starts the second they send in an application. Although you're not sure who it is just yet, one of these candidates will eventually be hired on. You can start building a relationship with them now, making onboarding that much easier.
Communicate early and often during the interviewing process, especially for those candidates who are selected for initial interviews and follow ups. Good communication sets the stage for a great relationship.
Establish Expectations and Get Ready Before the First Day
Once you've made a job offer to someone, focus your communication on preparing them. The onboarding process is already in motion, even if they aren't formally joining the team yet.
Communicate and establish expectations, and be clear about company culture. Also make sure your new team member has the equipment and software they'll require. If they don't, create a plan to help them get what they need.
Virtual Meet and Greets and More
When the first day rolls around, it's time to have virtual meet and greets with other team members. You may want to have a general meeting, as well as one on one chats with team leaders and other key personnel. Also go over key documents and training.
Provide your new administrative talent with resources to help them troubleshoot, as well as time to go over training. You may even want to pair them with a virtual mentor who can help them and keep an eye on how they're doing.
By taking these steps, you'll be in a great position to hire new administrative talent to work remotely with your team!