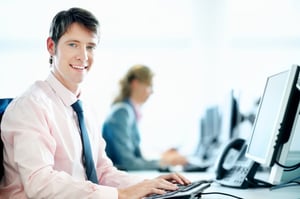 Finding office work on your own can be tough, especially if you don't have any leads or network connections to go off of. Many people who seek office work often go straight to searching online on job boards. While this may seem like the standard thing to do, it's not your only option. You can take a simpler approach by applying to a staffing agency. Staffing firms will make your job search a lot easier.
Liberty Staffing Services is a staffing agency in Ontario which offers employment opportunities in office, warehouse, and industrial sectors. We have many entry and mid-level office positions available. The level of these positions vary and are dependent on the tasks and responsibilities required.
Some of the office positions that we staff include (but are not limited to):
Secretaries
Receptionists
Accounts Payable
Accounts Receivable
Data Entry Clerks
Administrative Assistants
Customer Service Representatives
Clerical Assistants
Telecommunication Representatives
Inventory Clerks
Searching for work can often be time consuming and frustrating. When you've sent resume after resume with no response back from an employer, you can often get discouraged. Staffing agencies will work on your behalf to find you employment. Agencies have professional recruiters with years of experience. Leave it to the staffing professionals to steer you on the right career path.
If you are looking for an office position, register with Liberty Staffing Services today! Our application process is easy to complete, and we will conduct a brief interview with you to see what type of office work you are looking for.
Your first step to obtaining that dream office job is to contact Liberty Staffing Services. We will work with your needs and requirements.