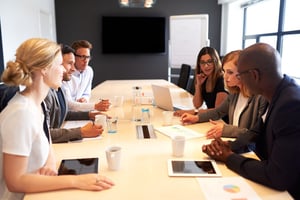 One on one interviews can be nerve wracking for job seekers. The alternative is the group interview, which presents its own challenges.
Some people feel right at home in a group interview, while others may prefer being the only one in the room. Employers conduct group interviews for different reasons. They might want to see how candidates react in a group environment, or they may just have a lot of interviews to get through.
Looking for a job? Let Liberty Staffing connect you to the jobs you want. Apply today!
At Liberty Staffing, some of the positions that we offer require that you interview with the client. We would like to see you succeed in the interview process.
Whether you're a people person, or more of a wallflower, these planning tips can help you shine in group interviews.
Do Your Research
Job seekers should research before any job interview, no matter if it's a group arrangement, or a one-on-one situation.
What should you research? If you have the names of your interviewers, you can't go wrong looking them up. You'll have a conversation starter, and you'll feel more comfortable meeting them with having some background information.
You should also research the company, and look over the job description again. Learning more about the company shows you're interested in the business and growing within it, not just the job on offer. Knowing a bit more about the role can also help you ask insightful questions during the interview.
Prepare to Make Friends
The next step job seekers should take when they're preparing for group interviews is to adjust their mindset.
It's easy to treat the other job candidates as competition. In some senses, they are. You're all vying for the same position.
Giving your fellow interviewees the cold shoulder, or putting yourself in competition with them, however, probably won't reflect well on you during the interview.
Most workplaces stress teamwork, which means you'll be working closely with your colleagues day in and day out. If you seem hyper-competitive in the interview setting, your interviewers might assume you're not a team player.
You might also miss out on great networking opportunities. Instead of gearing up for competition, think about making friends at the interview. You never know who you'll encounter.
Prepare for Q&A
Group interviews follow a similar structure to the one-on-one interview. The major difference is that the interviewer will likely address their questions to the group.
Just like you would for a one-on-one interview, take some time to look up common group questions. An interviewer could ask you which of your co-interviewees you might hire, or the skills you think are most important for the job.
Some of the queries are similar to one-on-one interviews. You'll likely be asked about your motivation in applying for the job, your communication skills, and your work history.
At the end of the interview, the interviewer should ask if you have any questions. Don't forget to prepare some questions to ask your interviewers. Candidates who ask questions stand out more than those who don't. Asking questions also demonstrates your motivation, and desire, to learn more about the position/company.
Practice Your Listening Skills
Another key factor in acing group interviews is listening. Again, some employers use group interviews to assess candidates for their interpersonal skills. One of those skills is being able to listen.
Good listening skills are key in team based environments. In the group interview, you'll have a chance to demonstrate those skills.
Active listening means truly hearing another person. You should be able to paraphrase their ideas and repeat them back to get confirmation. You can also offer supportive comments. Body language indicates you're paying attention and engaging with what another person is saying.
Be ready to listen and support your fellow interview candidates when you head into a group interview. Demonstrating your listening skills is almost as important as demonstrating your clarity and creativity in answering interview questions.
Ready for Your Next Interview?
If you're on the hunt for a job, get in touch with Liberty Staffing. We have lots of great jobs currently available!
Finding your next great position is easier when you have the right support, and when you partner with Liberty Staffing Services. We connect great people with great jobs!