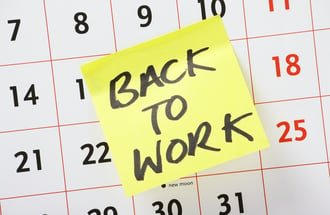 Looking for employment is scary for every job seeker, but it can be even more daunting for those who are re-entering the workforce after a long break. But no matter how long you were gone for or what age you're at now, you can ensure a successful and speedy re-entry with these tips.
Stick to Your Old Position or Industry
You may be thinking about a career change now that you want to return to the workforce. But this may not be the best time to switch careers completely. You need to be able to show potential employers that you have the skills and experience they need—even if it's from many years ago. Go back to what you were doing successfully before your career break so you can offer relevant references and success stories from your past.
Connect with Past Networks
It can be hard to convince new potential employers that you have what it takes to do a job well when they don't know you. Connect with your former supervisors and colleagues who already know you and the great quality of your work. They might have positions available for you to apply to or they might be able to give you job leads and possible contracts. At the very least, you can ask them to serve as a reference on your job search.
Highlight Your Years Off
You don't need to be ashamed of your time off. Chances are you put that time to use—just in different ways. Highlight all of the things you did do and the things you did accomplish while you were out of work, such as the classes you attended, the degrees you earned, the volunteer work you did, or the transferrable skills you learned.
The worst thing you can do is try to hide your career break on your resume—it'll be a red flag for those who are reading it.
Update Your Skills and Knowledge
Though you might have been successful in your career in the past, a lot of time has gone by and your skills might now be out of date as new best practices, technologies, tools, and trends have hit the market. Before you return to the workforce, spend some time researching your industry to learn what's new. Refresh your skills by volunteering or practising at home if possible. Learn how to use new tools and technologies so you can display confidence when speaking about your skills during interviews. The job market changes rapidly in a short amount of time. If your skills are currently irrelevant or out of date, you need to relearn them.
Consider Temp Work
You might be ready to return to the workforce full time but if you're not having any luck finding permanent, full-time work, it might be best to take on some temporary positions for a while. They'll allow you to get comfortable with a work schedule again, to test out industries, companies, and positions, gain new skills and experience that you can then put on your resume to impress hiring managers, and help you get your foot in the door. If you succeed in a temporary position, you might also be offered a permanent position once your term is up.
Apply to a Staffing Firm
A staffing firm can help you to effortlessly return to the workforce at any age. It can provide you with much-needed interview tips and practice, resume fixes, advice, and recommendations. In addition, the job search in 2016 might differ from what you were used to in the past. Your recruiter will be able to help you navigate the new job market with ease.
If you're ready to return to the workforce, contact Liberty Staffing for help.