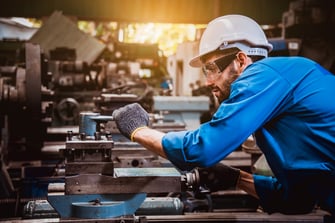 Are you looking for a great job as an Industrial Maintenance Millwright? Liberty Staffing Services is currently hiring for this great role in Guelph, Ontario!
Liberty Staffing Services is an award-winning, independent staffing agency with multiple branch locations across Ontario. First established in 1999, we've been helping local job seekers find employment for 24 years! We offer general labour, warehouse, manufacturing, factory, and office jobs in temporary, temporary to permanent, and permanent opportunities.
There is no fee to apply with us, or use our services, as a job seeker. Apply with us today!
Industrial Maintenance Millwright Job Details
- Located in the East end of Guelph
- Permanent, direct hire to the company (no probationary period with Liberty Staffing Services)
- Shift runs Monday-Thursday from 6:30am-4pm and Friday 6:30am-3pm
- Paying $38-$43/hour (based on experience)
Duties and Responsibilities
- Install, maintain, dismantle, troubleshoot and repair a variety of machinery and mechanical equipment including welders, cranes, machining centres, plasma/laser cutters, PLCs, etc.
- Develop and maintain Preventative Maintenance Program
- Maximize equipment uptime
- Actively participate in Pre-Start Health and Safety audits on all new equipment and applicable equipment modifications
- Support creation of lockout/tagout procedures on all equipment existing and new
- Manage inventory levels of replacement parts
- Supervise and manage outside trades/contractors in accordance with contractor management guidelines
- Monitor and manage shop tools to ensure that appropriate materials are on site to expedite repairs
- Negotiate contracts with all subcontractors
- Perform routine maintenance
- Able to work under minimal supervision
- Interpretation of blueprints/diagrams/schematics
- Other maintenance duties as may be required
Qualifications
- Completion of college/post-secondary education or equivalent
- 5-10 years of manufacturing maintenance experience with supervisory experience (in fabrication) with a focus on preventative maintenance
- Industrial muti-trade knowledge in electrical, mechanical, millwright
- Must have 433A (Industrial Millwright) and 309A or 442A (Electrical) certificate
- Hands on knowledge and experience working with mechanical, hydraulic, pneumatic and electrical
- Comply with all Occupational Health and Safety Act standards and the Industrial Regulation
Apply Today!
Ready to apply to this great job opportunity? If you meet most (or all) of the criteria, please contact our Guelph branch to apply!
Call/text: 519-823-9697
Email your updated resume to Kirsten at:
kirstenh@libertystaffing.ca
Visit:
214 Speedvale Ave. West, Unit 4
Guelph, Ontario
N1H 1C4