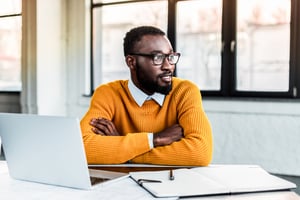 Are you interested in pursuing a career in data entry? Data entry is required in almost all businesses, so there's great potential to gain a career in this field, if you choose to pursue it.
What is entailed in a data entry clerk position? The role deals with collecting data and inputting the information in an organized way into a computer system. Data could be anything from company revenue, billing, or customer contact details.
Liberty Staffing Services offers many office positions, including data entry.
So how do you know that a data entry position is the right career choice for you, especially if you're a recent graduate entering the workforce for the first time? If you have the skills listed below, you may be a great fit.
You Know Your Way Around a Computer
A data entry clerk role involves working with a computer, scanner, and copier. So you must be adept at using a computer, and you must be technology-savvy. You can type quickly. Data entry clerks also use specific software to collect and input information. This software varies, depending on the company.
Work Well Independently
Most data entry roles require candidates to work independently. You must be able to keep yourself motivated and focused on the task at hand. If you're able to work on your own, with minimal supervision, then this role is for you.
Do you work best in a team setting? Are you motivated to do your best because you're working within a team? If so, data entry probably isn't your ideal career.
Great Attention to Detail
You can spot an error in a document from a mile away. You notice the little things, and you understand that these small differences can greatly influence the overall outcome. You're able to spot mistakes and correct them right away. If this describes you, then you'd make a perfect data entry clerk.
Work Quickly With Precision
While data entry clerks have a lot of work to complete on a day-to-day basis, they don't buckle under pressure. Great data entry clerks work quickly and efficiently. You must be able to meet deadlines, and your work must be precise. If not, you'll have to go back and fix your errors. Everyone is human, but inputting data accurately is imperative.
Confidentially is Key
As a data entry clerk, you could be collecting information that is sensitive. Most businesses offer services to customers. So, if you're a data entry clerk working in a B2C (business to consumer) organization, at some point you're probably going to collect and input customer contact information. This data could be customer names, phone numbers, addresses, etc. Information like this is private and sensitive, so your moral compass must always be pointing north.
Ready to start a career as a data entry clerk? Contact Liberty Staffing today! We connect great people with great jobs.