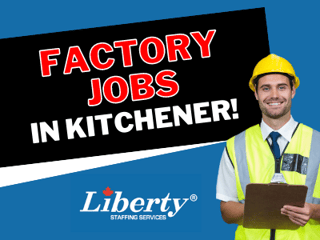 Are you looking for a great job in Kitchener, Ontario? Liberty Staffing Services is currently hiring for a variety of factory jobs in Kitchener, Waterloo, and surrounding areas!
Liberty Staffing Services is an independent staffing agency with multiple branch locations across Ontario. First established in 1999, we've been connecting people with great jobs for over 20 years! We offer factory jobs in temporary, temporary to permanent, and permanent opportunities.
Whether you're looking for a temporary job or a permanent career, Liberty Staffing Services can help! We'll have an interview with you and take the time to learn about your ideal job requirements. Then we'll match you with your dream job in Kitchener, Waterloo, or surrounding areas.
Factory Jobs Available in Kitchener, Ontario
To find out more information about the factory jobs that we currently have available in Kitchener, please watch the following video:
Apply Today!
Call/text: 519-742-2011
Start our online application:
www.libertystaffing.ca/apply-online
Visit our office:
625 King Street East, Suite 2A
Kitchener, Ontario N2G 4V4
Ask about our First Day E-Pay Program!