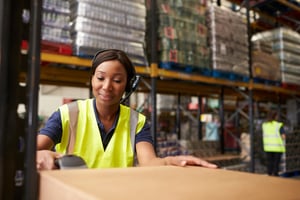 Warehouse work encompasses many fields, including (but not limited to) Loading/Unloading, Forklift Operating, Packaging/Labelling, and Shipping/Receiving. Working in a Warehouse can be very rewarding, and many consider it a great career choice.
Liberty Staffing Services is an independent staffing agency. We offer meaningful employment to job seekers.
If you're looking for Warehouse work, apply with Liberty Staffing Services. We currently have a variety of Warehouse positions available. Here's why you should apply with us.
Jobs in Your Area
Liberty Staffing has 11 office locations across southwestern Ontario (specifically Arthur, Brampton, Cambridge, Guelph, Kitchener, London, Mississauga, St. Catharines, Stratford, Waterloo, and Woodstock). We have strong relationships with multiple Warehouses within these areas. Liberty Staffing can help you find a great Warehouse job in your area.
Temporary and Permanent Positions
Are you interested in one day assignments, or perhaps weekly work? Liberty Staffing offers Warehouse jobs on a temporary basis.
Not interested in temp work? That's okay! Liberty Staffing Services also offers temp-to-perm, and permanent positions. We will work with your needs and requirements to find the perfect position for you.
Access to Multiple Opportunities
By applying to an agency, you will gain access to multiple Warehouse opportunities. All you have to do is come in to Liberty Staffing, fill out our application process, and answer some interview questions. Once you're registered with our agency, we can start offering you jobs. It's as simple as that.
Interested in applying? Contact Liberty Staffing today! We can help you gain the perfect Warehouse career.