Are you looking for a job in Guelph? Would you like to make a change in your career? Liberty Staffing Services is recruiting on behalf of our client, Ontario One Call (ON1Call). Ontario One Call is the legislated "Call Before You Dig" provider and Regulator for the Ontario Underground Infrastructure Notification System Act, 2012. Ontario One Call operates an inbound call centre, which receives and processes requests from anyone digging near underground infrastructure and routes the requests to their members.
We are excited to announce that we are currently hiring 30 Contact Centre Agents! Contact Centre agents are responsible for the input and processing of locate requests for underground infrastructure. Agents communicate daily with homeowners, excavators, owners of underground infrastructure and those involved in the excavation process while providing outstanding customer service in damage prevention and public safety.
30 Contact Centre Agent Positions Available!
Pay rate: $13.50 per hour (shift premiums offered)
Must be flexible for full time and part time hours
Must be flexible for all shifts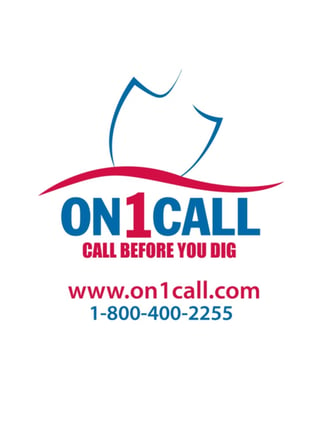 Responsibilities of Contact Centre Agents:
Receive inbound calls from excavators and homeowners who plan to disturb the ground, asking pertinent and scripted questions
Input and process locate requests into a proprietary application
Make changes to or cancel locate requests as directed by the callers, gathering all pertinent information when doing so
Review and process locate requests submitted through Ontario One Call's electronic ticket application
Handle emergency calls in a timely and efficient manner
Analyze maps to provide office clearances
Make outbound phone calls to obtain clarification on digging requests
Answer locate related requests, escalate calls when appropriate
Act as first level escalation point of contact
Manage a solutions email which is a depository for various questions and matters from stakeholders
Provide training and assistance on the use of Ontario One Call's web services and other processes to stakeholders
Assist the Member Services Department with inputting data
Provide exceptional customer service while troubleshooting any escalated calls or emails
Qualifications:
Ability to read, speak, and write English fluently
Ability to read and interpret directions and instructions by phone or computer
Strong computer and keyboarding skills
These positions will move quickly. Apply for a Contact Centre Agent position today!
Send your resume to: libertyguelph@gmail.com

Or apply in-person at:
Liberty Staffing Services
55 Cork Street East, Suite 203
Guelph, Ontario
N1H 2W7

Phone: 519-823-9697