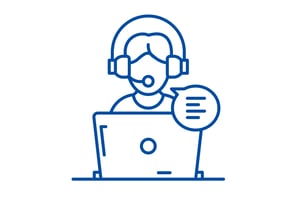 Liberty Staffing Services is an independent staffing agency with multiple branch locations throughout Ontario. We help job seekers find work, and provide flexible staffing solutions to local businesses.
At Liberty Staffing, the health and safety of our internal employees, assignment employees, and clients is our number one priority. We hope that you are staying safe and healthy during the current COVID-19 pandemic.
Here's some information regarding what Liberty Staffing Services is doing as a company during this crisis.
We're Working Remotely
As of Wednesday March 25, 2020, due to public health advisories surrounding COVID-19, Liberty Staffing's internal employees will be working remotely. This means that our physical branch locations are closed temporarily until further notice.
Should you require assistance at this time, please reach out to your nearest Liberty Staffing branch location by phone or email. Our hours of operation are Monday to Friday from 8am to 5pm. We have voicemail if you call after business hours.
Liberty Staffing will continue to provide our employees and clients with excellent customer service by phone or email during this time.
Our Branch Locations are Closed Temporarily
Liberty Staffing Services has made the difficult decision to temporarily close all of our branch locations. We will remain open for business by phone or email.
If you're looking to register with us at this time, please start your online application on our website, and call us to schedule a phone interview.
If you are an assignment employee of Liberty Staffing, and you're going to be late/sick/absent for your shift, please continue to call us. Looking to pick up your paycheque? Have questions about your pay? Call us and we would be happy to assist you.
Looking to hire more staff for your business? Call your nearest Liberty Staffing branch location, and we would be happy to assist you.
We apologize for the inconvenience. Thank you for understanding. Be safe and stay healthy.