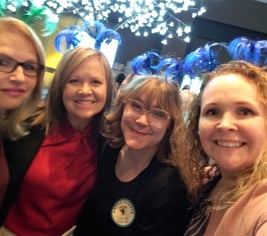 At Liberty Staffing, we love helping others, and giving back to the community. With being a staffing agency, we help job seekers find employment, and provide staffing solutions to business.
First established in 1999, Liberty Staffing has multiple locations across Ontario. We have an office in London, Ontario. Our London team recently volunteered at Community Living London's 28th Annual Night of Heroes Fashion Show and Silent Auction. This event was held on Thursday February 27, 2020, at RBC London Place.
About Community Living London
Community Living London is London's largest and oldest non-profit organization. They are dedicated to supporting people with developmental disabilities to live fulfilled lives in collaboration with families and the community. Community Living London supports over 1,000 people with developmental disabilities every year.
Night of Heroes
The Night of Heroes is about celebrating people in the community. It's an evening where the community comes together to hear inspiring stories. Local heroes strut down the runway with a person supported by Community Living London, and their stories are shared. In addition, there's also a silent auction with items including: restaurant gift certificates, a hot air balloon ride, concert tickets, Maple Leaf tickets, and more. All funds raised from this event go to programs and services like accommodations, employment, person centered planning, and respite services, etc.
Community Living London was able to exceed their goal of raising $150,000!
Volunteering
A big thank you to Liberty Staffing's London team (Lisa, Ashley, Stephanie, and Chrystyna) for volunteering at this event! Our London team helped at the event by selling raffle tickets, and collecting donations for a house that's being built for people with special needs to live more independently, but still have medical services, and assistance on-site.
Are you thinking of volunteering in the community? Volunteering is a great experience to put on your resume. Or are you looking for work? Contact Liberty Staffing's London office at (519) 453-9021 today! We connect great people with great jobs.