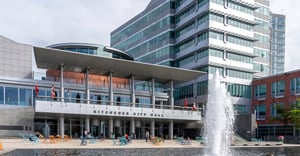 If you're looking for a new job or thinking about switching careers, you might be wondering where you should concentrate your efforts. What positions are out there, and who are employers looking for?
Looking for a job? Let Liberty Staffing connect you to the jobs you want. Apply today!
These four in-demand jobs should give you a good idea of what employers are looking for right now. Some of these positions are expected to stay on the hot list for years to come.
Liberty Staffing is an independent staffing agency with multiple branch locations across Ontario. We offer all of the hot jobs listed below. Consider one of them if you're thinking of taking your career in a new direction.
1. Welders
Welders are going to be in-demand over the next few years. There are a few reasons for this. One is the retirement rate. Senior level, experienced Welders will soon be leaving their jobs, which will create openings for recent graduates.
The other driving factor is the expansion of industries like construction and manufacturing. With both of these sectors going strong, the need for Welders to fill the gaps left by retirees, and with the expansion of new openings, will remain.
2. Administrative Assistants
Administrative Assistant has been one of the most in-demand jobs over the last few years. That trend looks like it will continue well into 2020, and potentially beyond as well.
What's driving the demand for Administrative Assistants? Part of it is the retirement of people already occupying this position. In other cases, new positions are opening up in places that previously didn't recognize the need for an Administrative Assistant to help them run the office.
If you're great with organization, time management, and learning new technology, you might want to consider this career path.
3. General Labourers
If you're looking for a job right now, then you can't go wrong with a General Labour position. General Labour was one of the most in-demand positions in 2019, and it's unlikely employers will stop looking for talented people to fill this role anytime soon.
Why? General Labourers fulfill a number of different functions, and almost every business employs one or two candidates for this type of role. The duties and responsibilities vary from employer to employer, but the long and short of it is that General Labourers are indispensable for almost any business.
Finally, General Labour is a role that usually requires little to no experience. It can be a great choice for someone entering an industry, getting their first job, or looking to build their resume.
4. Customer Service Representatives
Another key role employers are hiring for in 2020 is Customer Service Representatives. CSRs are often the face of the business for customers, so it's important to have talented people in this role. CSRs may operate registers in retail businesses, or offer online support for customers. They might also be available by phone or email.
No matter how they're interacting with clients, the CSR is expected to deliver excellent service to customers. An upbeat attitude and a love of problem-solving are the hallmarks of people who excel in this role. If this sounds like you, then this could be the right job to check out.
If you're seeking new job opportunities, get in touch with Liberty Staffing today! We can help you discover the best role for you.