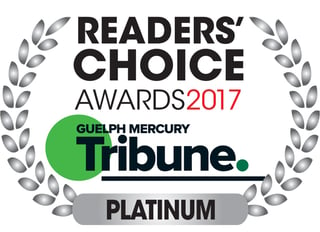 Liberty Staffing's Guelph branch has won Platinum for Best Employment Agency in the Guelph Mercury Tribune Readers' Choice Awards for 2017! Congratulations to our team in Guelph: Lorna, Paula, Janielle, Kristy, and Ashley.
Lorna (Regional Business Manager) and Paula (Business Development Representative) at our Guelph branch recently celebrated 11 years working together at Liberty Staffing. In 2016, Liberty Staffing also won Platinum for Best Employment Agency in Guelph. We would like to thank you for your unwavering support of our business. Your votes are greatly appreciated!
Are you looking for work in Guelph, Ontario or surrounding areas? Register with Liberty Staffing! Our agency first opened in Guelph in 2001. Overall, our company as a whole has been in business since 1999. Our friendly and experienced recruiting professionals would be happy to help you find the job of your dreams.
We offer general labour, warehouse, and office positions in temporary, temporary to permanent, and permanent opportunities. At Liberty Staffing, we take the time to get to know you, your skills and previous work experience, and your current work requirements in order to ensure that we find the right position for you.
There are many great reasons why you should apply with us, such as: we pay weekly through direct deposit or cheque, we have a $100 referral bonus program, and we have no binding contract.
Apply with us today!
55 Cork Street East, Suite 203
Guelph, ON
(519) 823-9697