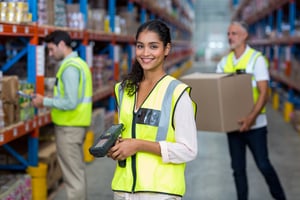 Are you looking for a warehouse job in Ontario? Working in a warehouse can be great. You get to work with your hands, and earn good money. It's rewarding work.
Most warehouse roles are fast-paced, and some can be physically demanding. If you don't want to be tied to a desk all day, as you would in a clerical position, then a warehouse role would probably suit you.
Liberty Staffing Services offers temporary, temporary to permanent, and permanent warehouse positions. Here are some great reasons why you should work in a warehouse, and apply with our staffing agency.
Various Positions Available
There's no shortage of roles within a warehouse setting. Liberty Staffing offers the following positions within a warehouse: Assembly, General Labour, Ordering Picking, Food Processing, Packaging, Forklift Operating, Shipping and Receiving, Machine Operating, and Welding.
Normally warehouses are pretty busy. Everyone is constantly on the go, as production levels are high, and services need to be met, especially during peak seasons. There's a strong chance that you'll have steady, ongoing work if you take on a warehouse role.
Work in Your Area
Warehouse facilities are everywhere. Liberty Staffing has partnered with many warehouses throughout Ontario to help fulfill hiring needs.
During your interview, let us know what geographical area you're looking to work in, and we'll try our best to find you a job close to where you live. Also advise us if you have a car, or if you use public transportation for work.
Weekly Pay
Most of our warehouse roles are full time. Pay rates vary depending on the position. Our warehouse positions start at $14 per hour and up. Sometimes overtime is available, for those who would like to earn a bit of extra money.
Liberty Staffing Services pays on a weekly basis (every Friday), by cheque or direct deposit.
$100 Referral Bonus
Do you know about our referral bonus? If you've found warehouse work through us, we hope that you'll refer a friend or family member (legally able to work in Ontario) to come in and register with our agency. If your friend/family member works a minimum of 200 hours with us, you will earn $100 for your referral.
The more people that you refer, the more money you could obtain. For example, if you refer 5 friends to our agency, and they all work 200 hours with Liberty Staffing, you will earn $500.
Ready to start your next great warehouse career? Contact a Liberty Staffing Services branch nearest you! We connect great people with great jobs.