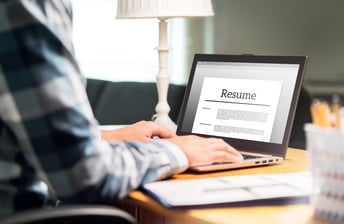 Feeling anxious about going on the job market for the first time ever? We understand your anxieties and concerns because we regularly help people join the workforce for the first time.
The most essential part of the job search is a great resume. That said, resumes vary in quality, and you want yours to stand out in only the best ways.
Resumes that stand out as low-quality are full of spelling errors, poor formatting, confusing phrasing, and outdated or incorrect information.
On the other hand, great resumes have several things in common. Let's look at what a successful resume will include.
1. Match Your Resume to the Position
A generic resume is one that looks exactly the same no matter what job you are applying for. This is usually a mistake. Of course, any resume you create is going to include some of the same details from version to version. But every job is different, and that's why you need to communicate your value to potential employers through a customized resume for the position.
Customization can come in the form of a great purpose statement, prioritizing different pieces of information, or emphasizing relevant experiences.
2. Be Precise
Precision is a vital resume-building skill. Imagine that you're a hiring manager, trying to get an understanding of the strengths of your job candidates. One candidate writes that their strengths are communication, attention to detail, and teamwork. Those are definitely desirable traits when choosing an employee.
However, a second candidate lists their strengths as: strong communication skills in small groups, large groups, and one-on-one, experience working independently, paying attention to details without direct supervision, great team player when it comes to problem-solving and goal setting.
Which candidate catches your attention? You are likely more drawn to the second candidate, whose strengths are far more detailed and precise.
Precision in your word choice will help you develop a great resume!
3. Be Concise
Precision needs to be paired with conciseness. In other words, keep it short!
While your resume needs to be packed full of details and information, it also needs to be short and sweet. Run-on sentences are an automatic red flag to an employer, and so are confusing phrases, unclear word choices, and convoluted ideas.
Here's a great tip: choose a font that is easy to read, and try to create plenty of white space on the page. This ensures that your employer doesn't end up feeling like they have encountered a wall of tiny, indecipherable text when they look at your resume.
4. When Submitting a Digital Resume, Make it a PDF
Employers and hiring managers hate the experience of trying to open a document and encountering file type errors or weird formatting because of conversion from one file type to another.
If you save and share your digital resume as a PDF, it will not only be openable, but it will also look exactly the same for them as it did for you.
5. Double Check Everything
Proofread your resume before sending it off to an employer. Some of the things you need to double check on your resume include: spelling, grammar, your contact information, and the names of any companies you list as prior employers.
While we're talking about proofreading, we should mention that spell checking and editing your cover letter is another necessary step in the process.
6. Focus on Transferable Skills
Because this is your first resume, you may feel self conscious about your lack of job experience. But everyone has to start somewhere! Part time work, volunteer work, extracurricular activities, internships, educational awards or honours, and special credentials can all be included on a first-timer's resume.
Another thing is to bulk up the skills section of your resume. You can emphasize the skills you have developed on sports teams, in clubs, and anywhere else where you have worked hard and worked with other people.
Ready to Find a Great First Job?
Liberty Staffing is ready to help! Contact us today to take those next steps towards a job! We help place workers in temporary and permanent positions throughout Ontario, and we look forward to helping you become our next success story!