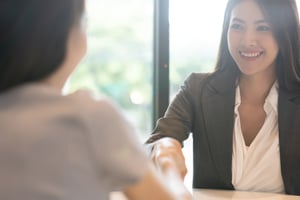 Are you headed into a job interview? It's important to be ready, and prepared for your interview. After all, the interview process is your chance to wow the employer. You should aim to leave a positive impression on the person that's interviewing you. The better your interview goes, the more likely you will land the job.
At Liberty Staffing, our goal is to help you professionally succeed. We are an independent staffing agency with multiple branch locations throughout Ontario. We help job seekers find local employment.
Some of our client companies require an interview. We would like to provide you with some tips to help you ace your next job interview.
1. Dress Professionally
The first thing you'll want to do is dress professionally for your job interview. Whether you're interviewing for an entry level general labour role, or a managerial position, you should dress professionally.
Dressing professionally shows that you care about the role at hand, and are serious about obtaining the job.
Candidates who dress professionally are more likely to gain the job than candidates who don't. Set yourself up for success by getting your professional clothes ready for your interview.
2. Bring Multiple Copies of Your Resume
Before your interview, take some time to print out your resume. Print out a couple of copies of your resume (just in case there's more than one person interviewing you).
Don't have access to a printer? Visit your local print shop, or library, to print off your resume. It won't look good to head into an interview without your resume.
3. Familiarize Yourself With the Role
Did you apply to the role a few weeks ago? Perhaps you applied to a couple of different job opportunities, and don't remember which job this interview is for. Either way, you should take some time to go back and review the job that you applied to. Familiarize yourself with the role that you're going to be interviewing for.
To do this, you can search online, and search by the company name. Read over the job description, and think about why you applied to this job in the first place.
4. Complete a Mock Interview Beforehand
Before you head into the interview, ask a friend, neighbour, or family member to conduct a mock interview with you. In this mock scenario, your friend will be the interviewer, and you will be the interviewee.
This is where you can practice what you're going to say to any tough interview questions that'll be thrown your way.
5. Ask Questions
During your interview, you should always ask questions. This will make you seem engaged and even more interested in the position. If you're not one to think quickly on your feet, you can prepare some questions beforehand.
Remember that you have the right to ask any questions you have about the role, or the company, during the interview process. You have to make sure that the role is right for you as well.
Need more interview tips? Contact Liberty Staffing Services. We wish you the best of luck in your interview!