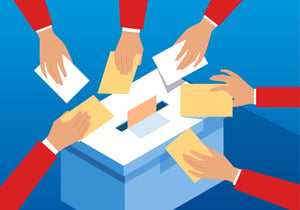 It's that time of year again! The Brampton Guardian is hosting their annual Readers' Choice Awards. In this contest, you have the chance to nominate your favourite businesses and services in Brampton, Ontario.
We are seeking your nomination for Best Employment Agency in Brampton!
Liberty Staffing Services first opened in Brampton in 2010. We specialize in providing general labour, warehouse, and office jobs to candidates in temporary, temporary to permanent, and permanent opportunities.

What sets us apart from other agencies? Liberty Staffing takes the time to get to know you and your ideal job requirements. Our main goal is to make sure that you are happy in the job that you are placed at. We want you to professionally succeed. Job searching has never been easier with Liberty Staffing.
If you have used our services in the past to find work, we hope that you will consider nominating us in the Brampton Guardian Readers' Choice Awards. There are a lot of agencies in the GTA, so the competition is fierce. We are hoping for your support.
To Nominate Us:
1. Click here to open the survey.
2. Agree to terms and conditions and input your contact information on page 1.
3. On page 3, under the "Best Business/Service" heading, and "Employment Agency" category, type in Liberty Staffing.
4. Continue through the survey until complete.
The deadline to have your nominations in is Sunday September 16. One nomination per email address please.
Thank you for your nomination! If you are looking for work in Brampton, make sure to call us at (905) 799-8586. We connect great people with great jobs.