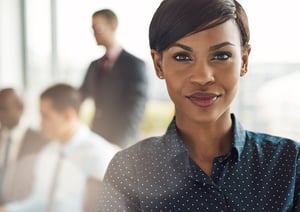 The first day at a new job can seem overwhelming. When faced with new situations, tasks, responsibilities, and team members, it can be hard to find your place right off the bat. The last thing that you want to do is overstep your boundaries, or start off on the wrong foot. Liberty Staffing would like to provide you with five tips to help you achieve success in your new role.
1. Meet Team Members
One of the first things that your supervisor/manager will probably have you do is meet other members of the company. It's important to establish a professional connection right away, to ensure that your team members come to you for assistance in the future, and vice versa. Be friendly, open, and have a positive attitude when meeting your new team members.
If you are not introduced, take the initiative and meet as many team members as you can. Become knowledgeable of other roles within the company, and how you will work within the dynamic.
2. Become Knowledgeable of the Business
Becoming knowledgeable of the business will take some time, so it's good to ask questions about the business when you first start. When you meet with other team members, ask senior employees for their view of the business and how it works. This will give you a wide-scope idea of what the company is all about, and you can do further research as time goes on. Fully understanding the business and company will help you in your role.
3. Understand Your Role
It's important to understand what is expected of you in your new position. Have open communication with your manager regarding this. Ask your manager what they would like to see you accomplish in this role, and then start working on it right away. As the weeks, and months go on, refer back to your manager's list of expectations, to make sure that you continue on the right path.
4. Ask Questions
Asking questions is always a good thing to do when you start a new job. After all, when you're thrown into a new situation, there is no way that you will know all of the company's policies and procedures. Ask questions to your supervisor or manager, and refer to your employee manual or job description.
5. Say Yes
Nobody likes a negative Nancy. It's important to have a positive attitude, and have passion in your new role. Say yes if someone asks you to eat lunch with them. Offer assistance to team members, when you can.
These are just a few things that you can do to ensure that you start your new job off on the right foot. Contact Liberty Staffing for more helpful tips. We wish you the best of luck in your new role!