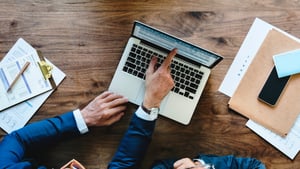 If you're on the hunt for a new job, you'll need to update your resume before you send out any applications. After all, you certainly won't get any call backs if you send out a resume that doesn't provide information on your most recent work experience or skills.
You may be wondering where to start when updating your resume. Liberty Staffing would like to provide you with some resume writing tips to help your resume get to the top of the candidate pile.
Here are the top three things that employers normally look for in a resume.
1. Organization/Ease of Reading
The first thing that employers notice is the overall look of your resume. Are your margins aligned? Do you use the same font throughout your resume? Is the information listed in chronological order? These are just some organizational factors to look out for.
You'll want to make sure that your resume looks as clean, professional, and organized as possible. The more organized it is, the easier it will be for an employer to read. An employer will not take the time to try and decipher your resume.
2. Keywords Relating to the Available Position
Employers have limited time to sift through hundreds of resumes. Most employers and recruiters use software technology to highlight keywords in resumes. These keywords are selected by the employer, and pertain to the skills required for the available position.
When updating your resume, you'll want to read the job description/advertisement carefully. Really get to understand what the employer is looking for. Then, tailor your resume to the specific position. Apply words that you believe are important to the position, that are applicable to your skills and abilities.
Don't apply keywords just for the sake of it. Employers pick up on that easily, and they will swiftly put your resume into the no pile.
3. Your Professional Timeline
Next, a hiring manager will look at the timeline of your professional work experience. They are specifically looking at the dates of your previous, and current, employment contracts. Do you have large gaps between employment contracts? This my cause some speculation.
They'll also be looking at how long you were employed at each position. Generally, employers want to hire staff members that are loyal, who will stick around for the long haul. High turnover is something that every employer wants to avoid. Job hoppers can't hide on a resume.
These are just a couple of things to think about when you're updating and sending out your resume. Need more resume tips? Contact Liberty Staffing today!