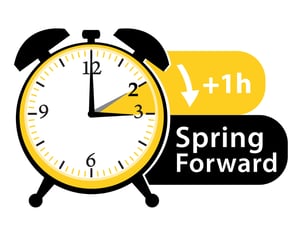 The time changes this weekend! Daylight saving time begins at 3am on Sunday March 10, 2019. Don't forget to change your clocks an hour ahead.
This means we'll have more daylight. The first day of spring is on Wednesday March 20, 2019. Spring is all about rejuvenation and new beginnings. It's the perfect time to make a career change, and find a new job through Liberty Staffing. If you're in the market for a new job, apply with us!

Liberty Staffing Services offers general labour, warehouse, industrial, and office positions in temporary and permanent opportunities throughout Ontario. If you're interested in working in any of these fields, we hope that you will apply with us.
There's no fee to use our services as a job seeker. At Liberty Staffing, we take the time to get to know you and your ideal job requirements. Our goal is to find the right fit for you so that you can succeed professionally.
Spring is a great time to start searching for a new job, because lots of businesses are gearing up for the busy summer season. They will need staff to cover off vacations, and they'll look to take on extra members to meet high production levels.
Ready to apply with us this spring? Your first step is to contact a Liberty Staffing branch nearest you. Then we'll require you to come in for an interview during our hours of operation. Please bring in photo ID, proof of your SIN, and an updated resume.
We connect great people with great jobs!