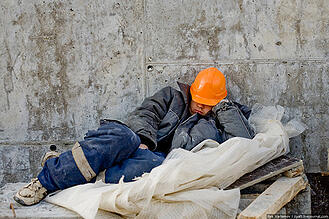 Using a temp staff can have a lot of benefits: you save costs on salaries, benefits, training, and additional resources and you get work done when you need it without being short-handed. But of course, these benefits only occur when you're working with a great temp staff.
When you decide to go with a temp staff, there are some qualities that you look for, and there are some traits that can make for terrible workers. No matter how hard you worked to ensure you have a great temp staff, you can sometimes get some bad apples in the bunch. This might not be your fault or your staffing agency's fault, but it if happens all the time, you might have a bigger problem on your hands—you might have to get rid of your staffing agency and find one that better understands your staffing needs.
Here are three traits of a terrible temp staff. If you spot them, you should be getting ready to replace them immediately.
1. Inflexibility
Temp workers go from job to job, working for various companies. Therefore, they should be flexible in their work methods. Each company will have a different way of doing things, so they need to be able to quickly adapt to a new environment and take on the preferred methods of their current employer. A temp worker who won't let go of his own way of doing things to adapt to yours cannot only be frustrating to deal with, but can also be a hindrance to your productivity.
2. Unreliability
Reliability is vital when it comes to temp workers. Chances are you've requested some extra workers because business is busier than usual and you need help right now to meet the demand that you're currently facing. You simply don't have time to waste waiting around for your temp workers to show up or scrambling to get a hold of them or replace them. Sure, sometimes emergencies happen—their car broke down, their child is sick, or they're ill—but absenteeism shouldn't be a consistent problem with your temp staff.
If you can't trust your temps to be reliable—because they're always calling in sick, are always showing up late, or just aren't bothering to show up at all, you could be missing out on revenue because of their unreliability. After all, trust is a big part of a successful business relationship.
3. Inexperience
The staffing agency's job is to match you up with the right temporary employees who are skilled and experienced to perform the job that needs to get done safely and effectively. If your temps aren't up to date on workplace health and safety regulations, you could be risking not only their security, but the safety of your permanent staff as well. Additionally, if your temp workers have claimed to know how to do the job you're expecting of them but come in not knowing how to do a lick of work, you'll be spending time and resources that you don't have on training them the basics. Or, you'll be wasting more time sending them back to the agency and waiting for a better replacement to arrive. Either scenario can be devastating to your profitability.
At the very least, your temp workers should be reliable—always showing up on time when expected—as well as flexible—easily adapting to your work methods—and they should have the skills required to perform their duties safely and effectively. If you're seeing any of the three behaviour problems above, it might be time to look at getting some replacements.