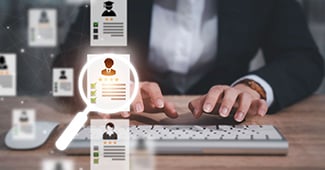 When you're recruiting for open positions in your company, it's easy to do the same things you have always done.
But is that really working? Do you find that you have unfilled open positions that have been listed for weeks? Are you dealing with high levels of employee turnover or worker dissatisfaction? Are you understaffed, and is your current team feeling overworked?
These are all signs that it is time to take a look at your recruiting strategies and make some changes!
Liberty Staffing can assist you with fast, effective recruiting. Contact us today to find out how we can help.
Here are 5 goals to help you recharge your recruiting.
1. Fill Your Long-Standing Open Positions
One of your top priorities should be filling those long-standing open positions.
If you have had multiple job postings that haven't been filled within 30 days, that's a red flag that something needs to change.
Perhaps your job description is too vague or too limiting. Maybe you are not offering enough compensation for the caliber of candidate you are seeking. It could be as simple as not getting the job listing in front of the right job seekers.
Make one of your first recruiting goals to find the right people to fill those positions. If you have pushed hiring to the back burner, now is the time to revisit it.
2. Improve Your Job Listing
Your next goal is to review your job listings. This might play a big role in filling those open positions.
An ideal effective job listing will include clear work outcomes, detailed work processes, information about the equipment and tools that the employee will use, details about the work environment, and all important information about the skills and experiences required of the candidate.
To improve an existing job listing, watch for opportunities to increase clarity, add more details, and add answers to the questions you have been asked by potential candidates.
3. Improve Your Messaging
People often don't realize the role your company's communication plays in recruitment.
Many of today's job seekers want to work for companies that share their values. How will they know if you share their values if they don't know anything about who you are as a company?
Every chance you get, communicate who you are and what you believe. Post on social media, add a blog to your website, and sponsor community events – these are a few of the things you can do right now to show your community who you are.
Think of it this way: your marketing is a recruiting tool, too!
4. Evaluate Your Methods
Self reflection is always valuable, both in life and in business. Don't be afraid to find areas of weakness, because that means you can improve. You are probably doing a lot of things right, but no company is perfect.
What kind of metrics are you currently using to evaluate your successes and failures when it comes to staffing your company? If you're not already keeping track of recruitment metrics, your goal can be to start tracking everything this year!
Keep track of how long it takes to fill a position, where your new hires come from, the diversity of your candidates, how many people applied for each position, how many people you interviewed, and how successful you were in finding the right person for the job.
If you don't keep track of things like this, it's a lot harder to figure out what is working and what isn't.
5. Outsource Your Onboarding
Onboarding doesn't have to be tedious. In fact, you can outsource it to make things a lot easier on you!
Not long ago, we put together 5 tips for improving your onboarding processes. One of our most important pieces of advice is to outsource this part of your staffing organization. A staffing agency can do more than just recruit new team members. We can also manage the onboarding processes for these new hires!
This means that you are free to focus on the important work of running and growing your business.
We can handle all of your onboarding requirements, including: collecting tax documentation, setting up payroll, distributing technology, facilitating training courses and sessions, scheduling meetings, and implementing all of the unique onboarding tasks your company requires.
Liberty Staffing Helps Southern Ontario's Businesses
Liberty Staffing has been supporting Southern Ontario's business community for more than twenty years.
Whether you are looking for recruitment and onboarding support, permanent or temporary employees, or full-time or part-time staff, we know how to take care of all your staffing needs. Your recruiting goals are our recruiting goals!
With our experience and expert knowledge, we can fill open positions, decrease employee turnover, and help you overcome the challenges that come with running a business in the 2020s!
Reach out to Liberty Staffing today to learn more about our services!