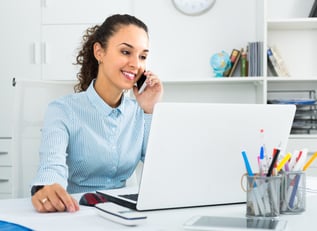 Are you bilingual in English/French and looking for a great career opportunity? Liberty Staffing Services is currently hiring a Bilingual (French) Customer Service Representative in Cambridge, Ontario!
Liberty Staffing Services is an award-winning, independent staffing agency with multiple branch locations across Ontario. First established in 1999, we've been helping local job seekers find employment for 24 years! We offer general labour, warehouse, manufacturing, factory, and office jobs in temporary, temporary to permanent, and permanent opportunities.
Here are some more details about the job.
Bilingual (French) Customer Service Representative
Working Hours: 8:00am - 5:00pm (with a 1 hour unpaid lunch).
Compensation: $35,000/year plus a long term incentive program and benefits after 3 months.
This is a permanent, direct hire position with our client.
Job Duties
- The Bilingual Customer Service Representative is responsible for processing customer credits, day-to-day clerical duties, and assists in all aspects of customer service.
- Enter incoming orders in the order entry module of ACCPAC.
- Filing of customer invoices.
- Process credits for return goods and/or price adjustments.
- Other activities and responsibilities as assigned from time to time.
- Administrative assistance to other staff as directed.
- Attend PIJAC tradeshow in Quebec and Toronto.
Qualifications
- Must be fluent in English and French (both written and oral preferred).
- Must have accurate data entry skills, and practical use of Excel and Word.
- Ability to work effectively with Sage, ACCPAC Accounting Package.
- Strong communication and collection skills.
- EDI an asset.
Apply With Us Today!
Ready to apply to this great job opportunity? Apply with us today! Please contact Karen, our Office Recruitment Specialist, at our Kitchener branch location.
Call/text: 519-742-2011
Email your resume to Karen at:
karenf@libertystaffing.ca

Visit:
625 King St. East, Suite 2A
Kitchener, Ontario
N2G 4V4