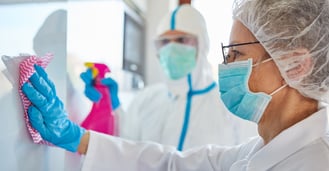 There are a lot of reasons why you may be looking for a job in 2021. Whether you're looking to switch careers, work with a different supervisor, or even enter the job market for the first time, you can benefit from some vital information about industries that are growing and jobs that are available.
Some industries have been changed forever by the COVID-19 pandemic, particularly tourism and restaurants. However, there are other industries that have experienced a lot of growth because of changes to our daily routines and habits.
Today, more than ever, we're doing more of our shopping, socializing, and educating in a virtual setting, and the job outlook reflects that. At the same time, some jobs are almost always in demand, because even when there is a lot of change in the world, we still need educators, nurses, craftspeople, and more.
Let's take a look at the top 5 jobs that are going to be in demand for the rest of 2021.
1. Customer Service Representatives
Customer service reps (CSRs) play a vital role in countless industries. As more and more daily activities have moved online, consumers find themselves reaching out to customer service to help with all kinds of things that they haven't had to deal with before.
Many people in this field are still working from home because of pandemic restrictions. Liberty Staffing Services offers in-house CSR positions in Ontario. We expect to see continued growth in this area over the next year.
2. Cleaners and Sanitation Workers
One sector that has experienced a lot of change and growth since the beginning of the pandemic is the cleaning and sanitation industry.
Businesses, restaurants, schools, medical offices, and other private facilities have made major changes to their cleaning framework. Building managers are hiring more and more cleaning professionals, and we expect to see this trend continue.
3. General Labour
General labour jobs are booming! These positions are great for job seekers because they don't normally require specific educational minimums. However, some do require specialized credentials.
General labourers can prep job sites, load materials, and use machines like forklifts, and use tools like power drills, pressure washers, blowtorches, etc. They often work to support skilled labourers, such as carpenters, masons, and contractors.
4. Welders
Did you know that welders are some of the most in-demand skilled laborers in Canada? One of the reasons is that there is currently a shortage of welders, despite high demand for the important work that welders do.
Welders work in industrial settings, fusing metals together with heat. This job takes skill and appropriate training, and if you want to work with your hands, it may be the perfect job for you.
5. Administrative Assistants
According to Canada's Job Bank, there are going to be 41,700 administrative assistant positions opening up by 2028, and only 34,700 job seekers expected to fill them. What does that mean for job seekers? It means that administrative assistants are in demand!
Administrative assistants are responsible for a variety of tasks in the workplace, ranging from greeting visitors and completing clerical tasks, to maintaining an office and coordinating complex schedules.
Looking for a New Job?
Liberty Staffing Services can help! While the jobs we've looked at in this post are some of the most in-demand jobs of 2021, they're certainly not the only jobs! Companies are hiring for all kinds of different positions right now, and they are looking for reliable, high-quality candidates who are ready to get started with a new position or career.
We would love to help you get a job that you'll love! Liberty Staffing connects you with reputable local employers. We know who is hiring and what positions the company is looking for. We will match your specific skills to employers who are looking for what you have to offer!
Contact us today and we can help you take the next steps in your employment search.