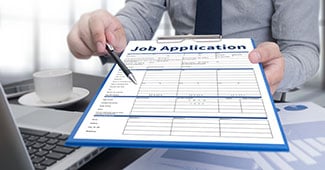 Job searching can be a stressful experience, especially if you're in that waiting period after submitting your application. Liberty Staffing takes job searchers through the application process, allowing them to find work fast.
Liberty Staffing is an independent staffing agency with multiple branch locations across Ontario. We connect great people with great jobs! If you're looking for a new job, contact us today to kickstart your job search.
When you apply with Liberty Staffing, we will send out your resume to our open job opportunities. Then we will provide you with feedback promptly from our clients regarding your application.
What to Do When You Haven't Heard Back After Submitting an Application
A lot of applications are submitted online these days, especially since the pandemic started. In many industries, the days of going into a business, introducing yourself, and handing someone a paper resume are long gone.
Instead, you may never interact with a real, live human being when you first submit your application. This can feel a bit alienating. Not only that, but you may not have a specific contact from the company to follow up with.
What are some of the things you should and shouldn't do when you are waiting to hear back from your potential employer? Let's look at some dos and don'ts.
Have Patience
It can be tempting to check in constantly, especially if you are eager for a job placement. However, hiring managers often have a long list of responsibilities every day. If you send too many inquiries, you can come across as annoying instead of enthusiastic.
Give the hiring manager some time before you follow up. We recommend waiting a week before following up.
Take Account of Holidays
If that week period includes a holiday, give it a couple of extra days. That's because day-to-day business operations can slow down during the holidays. While you are eager to find out about your new job, management may be looking forward to a few days off.
Don't Forget to Check the Listing
The job listing may include important information about whether or not you should follow up with someone. For example, some job listings will include language that specifies a timeframe for when you should expect to hear back. If that window hasn't passed, hold off on checking in, even if it is past the standard two week time frame.
When You Reach Out, Be Professional
When you follow up after your initial contact, whether that is a job application or an interview, professionalism is a must.
This can include things like making sure that you are contacting the right person at the company, spelling their name correctly, introducing yourself so that they know who you are, and being both polite and concise.
This is a great opportunity to show what you are like as a coworker or an employee. How do you want to be perceived? Being courteous goes a long way when it comes to communicating with someone you are hoping will hire you.
What About if You Get Turned Down?
The unfortunate reality of job searching is that sometimes, you get turned down for the position. If you reach out and end up getting a reply that says you're not going to be considered for the job, you can still use this to your advantage. You may want to work for this company someday in the future, even though this job didn't work out. Send a thank you note and maintain that same professionalism.
Working with a Staffing Agency Can Help You Get a Job Faster
Working with a staffing agency is one of the best ways to speed up your job search. Apply with Liberty Staffing today! Whether you're looking for permanent work or a temporary position, we are happy to help connect you with a great employer in the field where you want to work.
Contact us today to learn more about how Liberty Staffing can help you find a job faster.