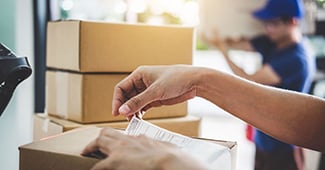 Shippers and receivers play an invaluable role in numerous industries, including retail, wholesale, warehousing, manufacturing, and other commercial industries.
If you're looking for a new career path, it's definitely worth looking into shipping and receiving positions. Warehouses are always looking for new shippers and receivers, including entry-level and more experienced team members.
If you're looking for a shipping and receiving position, contact Liberty Staffing today! We can help you find a rewarding position at a great company.
What is Shipping and Receiving?
Shippers and receivers are responsible for moving wholesale and retail products, parts, supplies, equipment, and materials between facilities. They work in a variety of settings, including retail businesses, wholesalers, warehouses, manufacturers, and industrial facilities.
In short, a business's shipping and receiving department manages the workflow of ingoing and outgoing products and supplies.
Responsibilities of a Shipping and Receiving Professional
Shippers and receivers have a variety of responsibilities that include (but aren't limited to): preparing invoices and shipping documents, preparing containers to be shipped, managing the unloading of items from delivery trucks, confirming receipt of goods, documenting shortages or damaged products, unpacking deliveries, overseeing the movement of goods from one place to another, and operating heavy equipment used to load product.
Shippers and receivers also need to know how to handle any unique materials associated with their employer's work. For example, they may handle hazardous chemicals, extremely heavy materials, flammable products, and other dangerous items.
Job Requirements for Working in Shipping and Receiving
Warehouses hire new staff all the time. They often look for people with experience, but they also hire for entry-level positions.
Prospective shippers and receivers need to have a high school diploma or equivalent degree. Even if they don't have experience with specific shipping and receiving skills, a resume full of soft skills goes a long way!
Additional skills that are helpful in shipping and receiving resumes are coding, programming, organizational skills, strong multi-tasking abilities, physical stamina, and knowledge of warehouse management systems (WMS).
Want to go the extra mile? Get forklift certified! Applicants with a forklift license are eligible for higher paying positions in the warehouse.
Career Opportunities for Shipping and Receiving Specialists
Shipping and receiving specialists have many opportunities for advancement within the warehouse.
After onboarding, shipping and receiving specialists who excel at the work can apply for management positions. If there aren't management positions at your own company, you at least now have the experience needed to apply elsewhere.
If you didn't have a forklift license when you got hired, you can get one while employed. Often, employers will pay for classes or certification exams.
Interested in Trying Out Shipping and Receiving Work? Get Hired as a Temporary Worker
We often write about why employers should hire temporary workers, but the benefits go both ways. Potential employees can try out a new industry or position through temp work.
Getting a job as a temporary worker allows you to test out the position to make sure it's a good fit, rather than committing to something that you're not sure about. If you love it, you can stick with it and apply for permanent work. If you find that it's not the right job for you, you can move on at the agreed-upon time and find something else.
Temp work is also a great way to make sure you like your new employer.
Liberty Staffing Can Find You Shipping and Receiving Work Quickly
Ready to get started right away? Working with a staffing agency is a great way to find a great position, and quickly. Liberty Staffing matches employees to employers, and we pride ourselves in making great matches.
If you're ready to get started in shipping and receiving, reach out to Liberty Staffing today! We're ready to help!