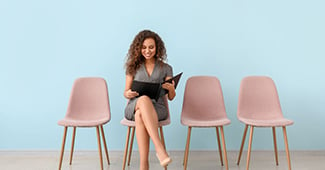 Every year, the job market changes. Staying on top of these changes helps employers prepare for whatever is coming next. After all, if we just pretend that everything is the same year after year, we quickly fall behind on important employment trends and changes.
If you need support when it comes to staffing your business with high-quality employees, Liberty Staffing can help! We know what today's job seekers are looking for and how to match them with the perfect position. Reach out to Liberty Staffing today to learn more.
2022 has a lot to teach us!
Remote Work Remains Popular
In 2021, about 20% of Canada's workforce was working remotely. That was a decrease from the height of the pandemic when 40% of Canadians were working from home. Even though the total number of remote workers has decreased, remote work is still popular among employees and job seekers.
Canada's workforce likes the idea of remote work. Working remotely gives them more control over their daily lives, reduces the amount of time they spend commuting to work, and makes them feel more productive.
Not all jobs can be done remotely, but if remote work is an option in your industry, it's worth looking into. Plus, hiring remote workers means you get to cast a much wider net. You no longer have to limit your job search to those in your geographical area.
Video Resumes are an Effective Strategy for Meeting Candidates
Even for in-person jobs, video resumes can be a great way to get to know candidates before bringing them in for an interview.
For jobs that are dependent upon the applicant's ability to use technology, a video interview reveals a lot! It's not just about getting to know the candidate's personality and demeanor, but it's also about checking to make sure they can follow instructions and adapt to new technologies.
Job Seekers are Looking for Flexibility
Today's job seekers want more workplace flexibility. We've been reporting on workplace flexibility for several years, and the demand continues to increase.
Many employers have struggled to fill open positions during 2022 due to a nationwide labour shortage. The businesses that successfully fill their openings are those that know how important it is to provide competitive pay, benefits, and workplace flexibility.
Job Candidates Hope to Work for a Place That Shares Their Values
One important new development when it comes to appealing to candidates is that they want to work for an employer that shares their values.
Think of it this way: environmentally-conscious job candidates want to work for environmentally-friendly employers. People who value diversity and inclusion want to make sure their employer does, too. Job seekers want to know what kind of workplace they are joining.
Employers can accommodate this new element of hiring by being upfront about their values. When your company makes donations to local non-profit organizations, share that knowledge with the community. When you implement inclusive practices, show what that looks like. Make sure that anyone representing your business in an interview knows how to communicate your company's values and ethos.
Job Candidates are Empowered
There has been a noticeable shift in the dynamics of the job search. Candidates are no longer willing to accept negative work environments. So instead of job seekers taking whatever job comes their way, they are actively looking for flexible positions. They expect to feel valued, feel secure in their future, and receive equal rewards for a job well done. Following The Great Resignation, employers can't afford to not adapt and provide candidates with the benefits they're searching for.
Learn About Today's Job Market Trends to Plan for Tomorrow
The labour shortage isn't going away quickly. Supply chain issues are still affecting businesses across countless industries. There are many factors influencing the job market, but one thing is true: the market changes all the time.
Working with a staffing agency can help you stay on top of the latest trends without needing to transform into an employment specialist.
Liberty Staffing helps companies throughout Southern Ontario find great candidates to get on board. Whether you're looking for part time staff, temporary seasonal workers, or full time, permanent employees, we know how to make those connections!
Contact Liberty Staffing today to find out how we can help you fill those open positions–fast!