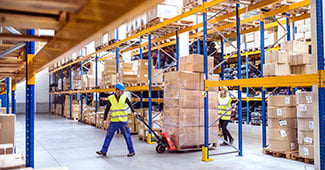 Is it time for a side hustle? When thinking about adding a part time side job to your life, it's important to find something that is flexible and worth your time.
Liberty Staffing helps people find positions that meet their needs, and that includes part time and temporary jobs. To find out more about the positions we're hiring for, reach out to Liberty Staffing today!
Benefits of Warehouse Work
Warehouse work has lots of benefits! And that's especially true for people who are looking for jobs they can fit into their existing responsibilities.
First of all, warehouses are almost always hiring, which means that you can find a position pretty quickly. Often, people pick up side hustles because they need to make some money quickly to cover some expenses, and so they want to find something pretty fast. Warehouse work is a great option for people who want to start a new job right away.
Additionally, warehouses are often happy to hire temporary workers to fulfill their hiring needs. That means you only need to commit to a limited number of weeks or months. After that, you can move on.
Warehouse work also pays quite well, especially if you pursue certifications or leadership positions within the company that hires you.
We regularly recommend warehouse positions to people with all different levels of experience, including people who have never done warehouse work before. While many warehouse positions will require you to develop a specific skill set, on-the-job training is typically available. Many people have filled warehouse positions as their first-ever job when they are done with school.
Warehouse Work is Steady and Predictable
Often, when looking for a side hustle, people tend to search specifically for warehouse positions. Warehouse work is far more predictable and dependable than any other contract work you're going to find!
Warehouses normally work within a predictable routine/set schedule. For example, shipments usually arrive on certain days of the work week, and orders need to be picked at certain times, etc. If you gain a warehouse position through Liberty Staffing, this means that you'll be knowledgeable of your job tasks for the day/week/month ahead of time. You'll also have a steady/predictable shift schedule.
Most warehouses provide workers with several different job opportunities, such as Receiver, General Labourer, Warehouse Associate, Forklift Operator, Warehouse Manager, Materials Handler, and Shipping and Receiving Specialist. Each of these positions will be far more consistent than contract work anywhere else. Consistency will come in the form of job duties, shift regularity, and a steady paycheck for your work.
Warehouse Work Has the Potential to Become a Great Career
If you find that you really enjoy your temporary or part time warehouse job, you may find that you're ready for a career change!
Many warehousing professionals have started out on a temporary or part time basis, only to realize that the work is perfect for them. We recommend that you keep an open mind to the opportunities that exist in warehouse work, because your side hustle may end up becoming a lucrative career!
To find out more about warehouse work and what kinds of positions we're currently finding for our job seekers, reach out to Liberty Staffing today! Working with a staffing agency is a great way to find the right warehouse job.
Get in touch today! We are ready to help and would love to hear from you.