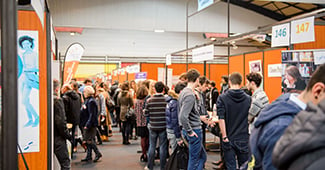 Are you attending a career fair soon? Career fairs help you reach out to candidates and spread the word about open positions. It's an opportunity to forge new connections with talented, enthusiastic employees in the manufacturing industry.
Liberty Staffing helps employers in Southern Ontario maintain proper staffing levels. When it's time to attend a career fair and attract new hires, reach out to Liberty Staffing too! Contact us today to find out how we can help.
Here are 4 things you can do immediately to prepare for your next career fair.
Polish Up Your Image in Print and Online
Decide who will attend the career fair to represent your organization and ensure they have everything needed to show a professional image. Gather literature including hiring brochures and business cards for your tabletop display.
Create a banner or board with your logo and web address in large, bold lettering. Set up your entire display in advance to see how it looks and make any necessary adjustments.
Remember, your online image is just as important as your in-person display at the career fair. Candidates will go online to get a feel for your digital presence and decide how they feel about your company. Is your website ready to handle an influx of traffic and job applications?
Focus on Workplace Flexibility
Employees increasingly desire flexible work hours and job schedules. Before taking a new position, they will want to know how flexible the hours are and whether you'll require a set schedule of working hours every week.
In manufacturing and skilled labour roles, 100% remote work is rarely an option. However, remote work remains in high demand across all industries. Applicants will be more interested in your organization if it's possible to work a hybrid schedule or work some hours remotely, so advertise these options if you offer them.
Make it clear whether you're hiring for temporary work or permanent positions and whether the work is full time or part time. Not everyone at career fairs seek permanent full time work. Some candidates might be glad to discover you're offering temporary or part time work because they need flexibility in their work schedules.
Be Prepared With Answers to Common Questions
Potential employees will be full of questions. They'll want to know about your company's open positions, benefits, work environment, and much more.
Take a welcoming attitude toward these questions and seize the opportunity to forge new bonds with potential hires. As you provide answers to attendees' questions, ensure your answers always follow Canada's hiring and employment laws.
Be prepared for questions about wages including how you stack up against other employers in terms of pay. Canada's latest Job Vacancy and Wage Survey shows an 8.5% rise in hourly wages for Ontario, so potential hires will be expecting you to offer competitive wages.
As attendees stop by, ask questions about their backgrounds and why they're interested in your organization. Role-specific questions about their work experiences will help you understand whether each person would be a good fit for the job.
Work with a Staffing Agency to Fill Employment Gaps
Ideally, a career fair leads to numerous candidates and new hires. What if you're not connecting with enough qualified prospects for your open positions? Fill the gaps by working with a staffing agency.
The right staffing agency can help you fill key roles, find temporary workers, onboard new employees, improve your training program, and prevent common hiring mistakes. Optimize your staffing policies by analyzing labour statistics and gaining fresh insights from your staffing agency.
Liberty Staffing - Helping Southern Ontario's Businesses Stay Fully Staffed
Liberty Staffing has helped employers in Southern Ontario manage their employment needs for more than 20 years. We can quickly find skilled workers for your manufacturing business and to maintain stable staffing levels.
We work with manufacturers, warehouses, retail businesses, offices, and more. Reach out to us today to learn how we take the stress out of staffing.