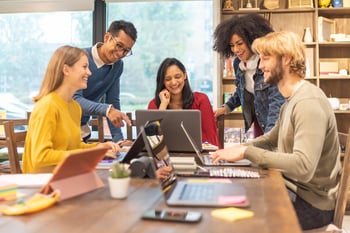 Today, 35% of the workforce is made up of Millennials, individuals who were born between 1981 and 1996. Gen Z's workforce is growing daily; by 2025, 27% of workers will be from Gen Z.
Basically, anyone in your company under 42 is a member of either Gen Z or the Millennial generation. These workers play an essential role in today's businesses!
Millennials and Gen Z are at pretty different stages of life, but there are a handful of things about work culture that are appealing to both groups. Liberty Staffing can help you find and keep these invaluable team members, so contact us today to get started!
These are the things you need to do if you want to recruit and retain Gen Z and Millennials at your company.
1. Flexibility
Flexible workplaces were already gaining momentum before the pandemic. Afterward, many Millennials realized that they valued the flexibility of remote work, hybrid workplaces, and adjustable schedules.
Gen Z, meanwhile, entered the workforce during the pandemic and has already learned to be flexible with their expectations of what a workplace is supposed to look like.
What does workplace flexibility look like? Today, it looks like using a scheduling system that gives employees control over when and where they work.
While not all businesses can give their workers complete control over their schedules or workplace location, most employers can figure out some ways to make their workplaces more flexible.
2. Relationships and Community
It's important to provide your Gen Z and Millennial workers with the opportunity to build a work community.
When it comes to work culture, relationships are especially important to Gen Z. Research shows that they want in-person connections with peer-level coworkers and supervisors alike.
Try to provide community-building activities like social events, mentoring programs, collaborative teams, and both group and one-on-one meetings throughout the month. This helps your team members feel included and important to the community that is your workplace.
3. Diversity and Inclusion
Today's job seekers want to work somewhere that matches their values. As young people continue to view diversity, equity, and inclusion (DEI) as one of their important personal values, they want to see their employees prioritize the same issues.
Millennials and Gen Z both want a workplace that reflects their broader community. They want to see people in leadership positions from various backgrounds and experiences. They want to know what their employer believes about diversity and inclusion of everyone: all sexes, genders, orientations, races, abilities, and more.
It doesn't matter what industry you operate in; businesses that want to attract and retain workers under 40 should prioritize diversity and inclusion in their hiring, leadership, and mission.
4. Creativity and Innovation
Younger workers are looking for jobs that allow them to be creative and innovative. They don't want to "turn off their brains" at work. They want to be engaged and invigorated by their workday! This is great news for employers because it means that new team members are often enthusiastic about the work they're doing.
Providing them with opportunities to be creative and innovative at work doesn't just help your employees feel valued, it also helps you stay current and up-to-date on cultural shifts and changes within the industry.
Valuing creativity and innovation doesn't mean that people can do whatever they want at work. It means that you listen to your employees' ideas, and provide incentives for innovative thinking.
Are You Ready to Bring New Employees to Your Business?
Just like your experienced and established employees provide value to your business, newer employees bring important insights and experiences too.
If you want to make sure that you are recruiting the best new employees, including people from all generations, a staffing agency is a great way to go about it.
Liberty Staffing matches our clients with outstanding job candidates. We know how to find great workers for great employers, including yours! Whether you're looking for part time staff, full time team members, temporary workers, or permanent employees, we use our expansive networks to find the best professionals for you.
Reach out to Liberty Staffing today to learn more about how we can help you meet your staffing needs!