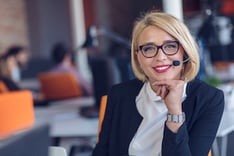 As the fall hiring season approaches, many hiring managers will have open roles to fill. Some businesses will be looking to replace summer staff, especially summer students as they head back to school. Others may need to bring on extra hands to prepare for the upcoming holiday season.
This is especially true for any business that runs a customer service department. If you need to hire Customer Service Representatives, you already know you'll be in fierce competition for them during the fall hiring rush.
Download our whitepaper to see how we solve our clients' evolving staffing issues
Working with our recruiters at Liberty Staffing can help you find more of the right people faster!
Find Customer Service Representatives with a Wider Net
You've probably posted your jobs to the big job boards, maybe even to LinkedIn, and your website. If you're not reeling in the right candidates, it could be because you haven't spread the net wide enough.
By partnering with Liberty Staffing, you can connect to an even wider network. We have an extensive network of candidates who are ready to work. We also have passive candidates in our recruiting database as well.
Finally, we can post your job in more places, so it will be noticed by more job seekers.
Streamlining Screening
More candidates may sound like a good idea, until you realize it means more applications. If you're already overwhelmed by the number of applications you receive for Customer Service Representatives, you might not relish the prospect of getting even more.
We'll help you deal with those additional applications. Our expert team uses the latest recruiting software to screen applications in-depth. We recommend only the best and brightest applican
In effect, we'll help you create a short list of great candidates to interview. This can help busy hiring managers save time during the hiring process and conduct interviews sooner.
Improving Job Descriptions
Another way we can help you hire the best Customer Service Representatives is by helping you improve job descriptions.
If the job description you post is so specific that it's exclusive, you may not get many applications. If, on the other hand, it's too vague, the best talent may get lost in a sea of less stellar applications.
Our team can give you pointers on crafting better job descriptions so that you can find the right people for your business. We can help you choose keywords, and list relevant skills so only the right people apply.
Helping You Move from Temporary to Permanent
What if you have a great summer employee, and you want to ask them to stay on? We can help you negotiate this situation too by facilitating temporary to permanent staffing.
This option gives employers the freedom to see how a candidate performs on the job before having them join the team in a permanent role. The right contract makes the move easier. Consider this option if you plan to hire any seasonal staff between now and December.
We may even be able to help you locate seasonal and temporary staff who previously worked with you. Just let us know which candidate you'd like to have back, and we'll get in touch with them on your behalf.
Screening applications can make some headway for you in terms of who would be the best fit for the position. Having us conduct screening interviews can also help you save time when you need to hire Customer Service Representatives.
Administering Tests and Conducting Interviews
What about testing? If you'd like candidates to complete a mock phone call to assess their customer services skills, we can do this for you. We can also administer typing speed tests. This extra step can help ensure you're hiring the best of the best.
Hire Customer Service Representatives Today
Whether you need to hire one Customer Service Representative or several, Liberty Staffing can help you find the right people sooner. Get in touch with us today, and discover a better way to hire.