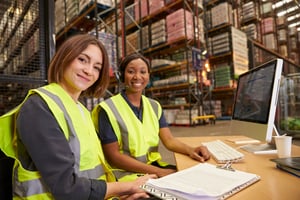 Looking for work? Make the job hunt easier by partnering with Liberty Staffing Services. We can help you find work. Liberty Staffing offers general labour, warehouse, industrial, and office jobs in temporary and permanent opportunities.
No matter what type of role you're applying for, most employers look for the following five qualities in a candidate. Without at least three or four of these qualities, an employer could overlook you. It doesn't matter if you are qualified for the position, or if you have a strong educational background for the role. If you don't display these qualities to the employer during the interview process, you may not obtain the role at hand.
Here are five qualities that employers look for in candidates.
1. Positive Attitude
Often, the number one trait that hiring managers look for during the interview process is whether you are a positive person. Do you seem excited about the position that you're applying for? Are you smiling during the interview? Would your past coworkers or supervisors describe you as a positive person?
Employers don't want to hire a negative Nancy.
2. Outgoing
How do you approach the interviewer? Did you introduce yourself to the receptionist when you first walked into the office? These can seem like minor factors in the grand scheme of the interview process, but an employer takes notes of this.
Being outgoing is normally admired in the professional world. Having an outgoing personality can be a necessity for certain positions (like sales, for example).
3. Caring
After your interview, did you say thank you to the interviewer? Did you follow up with a thank you call or email? This shows that you are caring. After all, the hiring manager took time out of their day to conduct your interview, and they are giving you a chance to work at their company.
The employer will also be asking themselves if you seem like a team player. Would you care enough about your teammates to help them out, when needed? An ideal candidate would.
4. Driven
Being driven is crucial in any career opportunity. Are you driven professionally? Where do you see yourself in five years? Discuss what motivates you career-wise during the interview. When an employer sees how driven you are to succeed, they're likely to hire you.
Not only should you be motivated for yourself, but ideal candidates should also be driven to lift their team members, and help coworkers to reach their professional goals.
5. Passionate
Passion is an important quality to possess, but unfortunately it can be hit or miss in candidates. Some candidates don't know what their dream job would be, and that's okay. You can still be passionate about the company that you work for, and passionate about your professional growth.
We hope that you nail your interview! Contact Liberty Staffing if you have any questions.