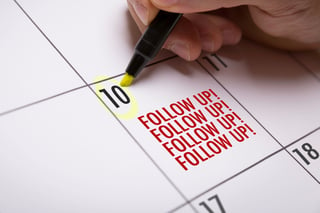 So you've just completed an interview. Congratulations! Answering all those difficult interview questions can be tough. Sometimes, it's a great feat to land an interview in itself. Now that the hard part is over, you can take a breather. But don't get too comfortable. What's next in the process? Many job seekers forget to do these five things after an interview. Keep reading.
1. Follow Up
The number one, first thing that you should be doing is following up with your interviewer. Best etiquette dictates that you follow up a day after your meeting. These days, with technology being so prevalent, it's okay to send a follow up email, instead of calling. Texting is a big no-no though. Make sure to keep things professional.
Too much follow up is also something to avoid. Don't hassle the employer or HR department. It's best to follow up the day after your interview, and then to wait at least a week before inquiring again. Many employers will say when they will make their hiring decision during the interview, so be sure to follow this guideline.
2. Send a Thank You
Following up and sending a thank you comes hand in hand. When you are following up from your interview the day after, be sure to say thank you to the employer for taking the time to sit down and chat with you. If there were two people that interviewed you, be sure to thank both. It's common courtesy, and hiring managers will appreciate this. You can send a thank you email, or phone call.
3. Do Additional Testing
Sometimes after an interview has been completed, a hiring manager may ask you to complete additional testing. This could be anything from a timed typing test, a math test, or a computer software test, etc. It all depends on the position that you are applying for.
If an employer asks you to complete some additional testing after the interview, this is usually a good sign. It means that the employer wants to see your skills put to action, so that they can better gauge how well you will fit into their company. Be sure to complete this testing in a timely manner.
4. Give Your References a Heads Up
In most cases, a hiring manager will ask for references during, or near the end of, your meeting. Have at least three references ready to go in preparation for your interview. Usually, a hiring manager will state that they will be in touch with your references during the interview.
Once you have completed your interview, be sure to give your references a heads up that they will be contacted soon. Not only that, it's a good idea to give your references the name of the employer that will be calling, and the company that they are calling from. The more information you can give to your references, the more prepared they will feel.
5. Keep Searching for Work
A common mistake that most job seekers make is that they wait idly by the phone or computer in hopes that they receive a job offer after their interview. Unfortunately, you could be waiting a long time, especially since many employers don't take the time to contact the candidates that have not been selected for the position. You could be waiting for a response for weeks! It's better to spend this post-interview time applying to other job opportunities, and heading into more interviews.
Need more tips? Contact Liberty Staffing today!