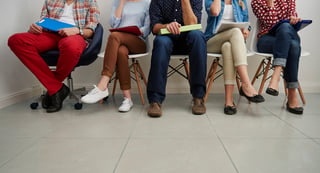 Is one of your New Year's Resolutions to obtain a new career? Since 2018 has now arrived, it's time to make that goal a reality. The new year means lots of new things. For example, new advancements in technology have been made, new labour laws, and there's been an increase in Ontario's minimum wage since January 1.
With the arrival of the new year, it's important that you know relevant, topical information for your interview. Liberty Staffing would like to provide you with some job interview questions that you can expect in 2018.
Can You Tell Us the Latest News in the Industry?
If you are headed into a job interview, it's in your best interest to research not only the company, but also the latest news of the industry that the company is in. For example, if you are interviewing for a marketing company, research the latest marketing trends and predictions for 2018. Perhaps there is prediction of a new social media platform. It's good to know this information, and it will bode well for you to express this information that you've learned to your interviewer. This will display that you have done your homework, and you know what's up in the year ahead.
What Technological Advancements Have Been Made?
Technological advancements are being made every year, in hopes that businesses will become more efficient, and production levels will rise. Chances are that the company you are interviewing for has made some upgrades within the past year. It's best to research the industry and the technological advancements that have been made in order to be prepared for your interview.
What Have You Done to Improve Your Knowledge in the Past Year?
This is a particularly important question to be prepared for before you head into an interview. While most have their recent skills, training, and experience listed on their resume, it's important to expand on this verbally to your interviewer, especially if they ask you about it. Have you gone back to school in the past year? Have you taken a course to better improve your knowledge in your field? Explain this to the interviewer. Learning should never stop. Improving your knowledge is imperative for professional growth, and employers want to see that you have taken the initiative to improve your skills.
Need more job interview tips? Contact Liberty Staffing today.