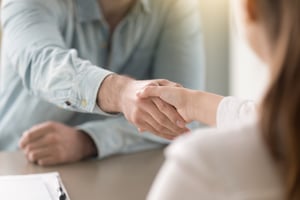 If you've just completed an interview with an employer, congratulations! That's the first big step in potentially gaining a new job. You may think that your duties are over, but don't rest just yet. Even though the interview is over, there are common courtesies that you should perform following your job interview. These courtesies could solidify your chances of gaining the position.
It's important to do these five things after your job interview.
1. Follow Up and Say Thank You
The most important thing that you can do after your interview is to call the employer to follow up on the status of the position, and to say thank you to the person/people who conducted your interview. Hiring managers have busy schedules. Tell the employer that you appreciated their time. Not only is this a common courtesy, but it also shows that you are thoughtful and respectful.
Most candidates wait a day after their interview to call and say thank you.
2. Notify Your References
At the end of most interviews, the employer will ask you for a list of references. If you gave your references to the hiring manager, get in touch with each of your references (if you haven't already) to give them a heads up that the employer may be contacting them. It won't look professional on your part if your references are caught off guard when the hiring manager calls.
3. Don't Constantly Inquire
You may think that calling the employer everyday following your job interview will show that you are eager to get started, however, most hiring managers do not appreciate the constant follow up. Hiring managers are busy. Even calling or emailing every other day is a lot. You'll be crossing the line between professional and annoying. It's in your best interest to not pester the employer. Following up once is enough. If you are not selected for the position, the employer will contact you.
4. Do Additional Testing
Some interviewers may ask you to complete a typing speed test, dexterity test, or other skilled tests. Make sure to complete these following your interview. The hiring manager is waiting to see your results. The last thing that you want to do is leave them waiting. They may decide to go with another candidate who has completed the tests before you. If you do not show any interest in completing the necessary testing, then it's clear to the employer that you wouldn't be a good fit for the position.
5. Keep Searching for Work
Even if your interview went well, there may be another candidate that is more qualified than you. That's why it's important for you to actively continue to search for work. You don't want to miss out on another job opportunity because you're waiting for a call back from an employer.
We hope you land the position! Need more post-interview tips? Contact Liberty Staffing Services today!