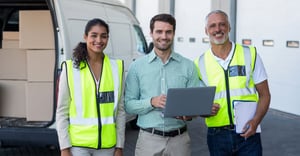 Summer is on its way, and for many businesses, that means hiring is about to increase. This year promises to present unique challenges in hiring. If you're wondering how you'll manage your summer workforce, then it's time to get in touch with Liberty Staffing.
Download our whitepaper to see how we solve our clients' evolving staffing issues
How can we help you with your summer workforce? Let's count the ways.
1. Find the Right Fit
The biggest benefit of working with us is finding the right fit for your business. We'll help you fill any role. More than that, though, we'll help you locate great candidates for those roles.
The first step in our process is working with you to determine your needs. We go beyond basic skills, and how many people you'll require, to determine your company's cultural needs as well. Then we'll work to find the right candidates for your business.
In turn, you'll be able to hire people who have not only the right skills, but the right attitudes too.
2. More Screening Leads to Better Hires
We also use additional screening in our hiring processes. The use of additional tests and questions, as well as a multi-step interview process, makes it easier to pinpoint the right people.
More screening usually saves time during the interview and decision making process. It also means you get to take advantage of better hires.
3. Flexible Staffing Arrangements Meet Your Needs
What happens if you're not sure how long you'll have to hire someone for? What if a permanent role opens up, and you want to invite someone from the temporary team to fill it?
Our team has you covered. We can help you navigate the ins and outs of temporary contracts, as well as temp-to-perm arrangements.
If you want to hire people back, we'll assist you there too. We understand that flexibility is the name of the game, especially in an uncertain market. With our team on your side, you'll never be shorthanded, or overstaffed, again.
4. Streamline Your Hiring Process
We also help your team streamline the hiring process. We'll support you in adding screening, or multiple rounds of interviews. Our team takes over the initial review of candidates, so you only spend time reviewing those applications that meet your criteria.
We can also help you minimize the time you spend interviewing potential team members. By suggesting only the most qualified applicants to you, we can reduce the number of interviews you need to conduct. From there, you are able to reduce your time to hire.
5. Get Ready for Your Next Seasonal Hire
We can help you prepare to think beyond your summer workforce. As summer hiring draws to a close, and you begin to think about fall hiring, we'll be here to assist you. If your business has a busy season in the summer, and you'll be looking to hire annually, we can help.
Once you're set for this summer, we crunch the numbers and find out what works for your business. We can use your projections to determine how many people you'll have to hire for the fall, or next summer. We will also use data and your feedback to determine which candidates made the best workers in your business. Then, we can analyze their applications to make it even easier to find great candidates for the next time you need to hire.
Finally, we'll keep your feedback about candidates you'd like to re-hire on file. When it's time to fill the team again, we can contact those people, and invite them to work with you again. Hiring for your summer workforce or at any other time of the year just became even easier.
If you're ready to get a jumpstart on summer hiring, reach out to Liberty Staffing Services. We'll help you get ready for the coming rush.