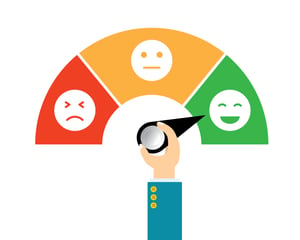 Some people in the working world love their careers. Others, however, do not. Sometimes, you may just take a job for financial stability. The job may not be what you're passionate about, but it pays the bills.
Or, perhaps your current position puts you under a lot of stress. Stress is a top contributing factor for why so many employees are unhappy, quit, and find new jobs.
Whatever the reason for your unhappiness at work, there are a couple of things that you can do to help persuade your feelings to be more positive.
Here are five simple things that you can do everyday to help you become happier at work.
1. Take a Walk on Your Break
It's important to take a step back from the task at hand every once in a while, especially if your job is stressful. Your mind needs time to relax and recharge.
All employees are encouraged to take their scheduled breaks. We suggest taking a walk around the block on your break. Not only is this good exercise for your body, but being outside and breathing in fresh air can work wonders on your mental health.
2. Eat Healthy and Drink Lots of Water
Often, when we eat foods that are bad for us, our body becomes sluggish, tired, and our thoughts often turn negative. Feeling bloated, fatigued, and unmotivated after lunch is not what you want to feel at work.
Eating healthy and drinking lots of water throughout the workday can help boost your happiness.
3. Find That Perfect Balance Between Work and Play
All work and no play makes Jack a dull boy. Often, employees are unhappy at work because they feel overworked and stressed. Your to-do list continues to grow, without signs of stopping. You work after hours. You miss family events because you need to finish projects for work.
If you continue to work non-stop, sooner or later you'll burn out. And we don't want that. In order to be happy at work, you really need to find that perfect work-life balance. It's okay to take a step back (most especially after work hours). After your scheduled work day, take a load off. Kick off your shoes and relax. Your responsibilities will be there waiting for you the next work day.
4. Make Friends
It's important to become friends with your coworkers. Establishing strong connections with your colleagues goes a long way in terms of your overall happiness at work. You'll be excited to go to work each day when you have friends to greet you.
Remember to keep connections with your coworkers and managers professional and respectful. Ask about what your coworkers did over the weekend, or ask about their family to help you make friends.
5. Avoid Negativity
Probably the most important thing that you can do to ensure your happiness at work is to avoid team members that constantly express negative thoughts. One bad egg can unfortunately lead your whole team into a downward spiral.
If you're having an issue with a coworker's negativity, discuss this with your supervisor. They can talk to the individual and try to remedy the issue.
Or, if you feel like starting a new career is the best route to ensure your happiness in the workplace, contact Liberty Staffing Services. We can help. Our ultimate goal is to match employees with their dream job.