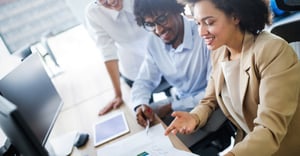 Employee engagement is a concern for many employers right now. More studies show that when people feel engaged at work, they're more productive. They're also happier and less likely to leave.
Feeling like they're part of a team and contributing to the company is a major part of engagement for most people. Motivation and job satisfaction increases when employees feel like their work means something, and that they matter to their colleagues.
Download our whitepaper to see how we solve our clients' evolving staffing issues
It can be difficult to motivate the permanent members of your workforce. How do you go about ensuring your temporary workers feel like they're valued team members that you'll miss when their contract is up? You could try out one of these five ideas.
1. Welcome Temporary Workers Like Permanent Employees
The first step in helping temporary workers feel like part of the team is simply treating them like part of the team. That starts on day one.
If you have an onboarding procedure, be sure your temporary workers also go through it. If you prepare work stations for permanent team members, or organize welcome lunches, then you should do the same for your temporary workers.
This helps temporary workers see that they fit in, and that they're just as important as any other member of your workforce.
2. Introduce Them to the Other Team Members
Part of your onboarding process likely features introducing new hires to your current team. Currently, you're introducing them to key decision-makers and their managers and supervisors. You should also introduce them to the people they'll be working with on a day-to-day basis.
Most onboarding advice recommends introducing new hires to people they'll have frequent contact with, even outside of their own team. The same advice holds for your temporary workers too. It's easy to feel isolated and alone when you don't see any familiar faces in the lobby, or when you need to visit another department. Doing a round of introductions can cement a temporary worker's status as a team member.
3. Include Them in Meetings
If you're constantly leaving your temporary workers outside of the meeting room, they may not feel involved in team decisions, or company direction. Instead, invite them to join you in the meeting, and ask for their feedback too.
It's easy to see why temporary employees want to be included. As much as they may be with you for a short time, it can be frustrating and isolating to be given important information through a memo rather than being part of the meeting. If key decisions are taken in meetings that temporary employees are excluded from, they may feel like they don't matter.
4. Emphasize Good Conversations
It's easy to give your temporary employees a task list, give them instructions, and let them complete the tasks on their own.
Your temporary employees want feedback as much as your permanent employees do, and they also want to feel that their voice matters. Invite them to talk to you, especially if they have questions or concerns. If you can, try giving them feedback on a regular basis. While most younger employees prefer in-the-moment feedback, you may need to schedule a time to sit down and discuss.
Temporary employees can offer you valuable insights, and fresh perspectives.
5. Offer Perks
Show your temporary employees you appreciate them by offering them a perk or two. For example, include them in the office pizza lunch on Fridays.
Even these small gestures could help your temporary workers feel like a big part of your team
If you're looking for great workers to fill temporary roles in your business, get in touch with Liberty Staffing today! We can help build the best part of your team.