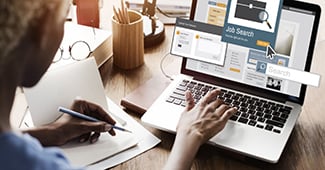 The job market is booming! It's time to start your job hunt.
You may wonder why now is the best time to be job hunting. After all, with so many open positions, some people think you can just walk into any business you want and pick one of those open positions. Do you really need to go through the entire job search process?
Here are the 6 reasons why you should go on the job hunt when there are so many available jobs. And don't forget to reach out to Liberty Staffing when you're ready to start your job search!
1. Opportunities are Plentiful
A booming job market means that there are openings in just about every industry. Whether you are looking for entry-level work, management positions, or anything in between, there are opportunities just waiting for you to take them.
These opportunities can look like a new position within the same company, the same kind of work with a new employer, or a brand new career path.
2. Job Seekers Have Decision-Making Power
When there are very few positions available, employers have all of the power in the relationship. They can take as long as they want during the job interview process, pick only the most competitive candidate for the position, and even maintain relatively low salary growth over time.
Today's job seekers, on the other hand, have a lot more power than they did just a few years ago. With so many job opportunities available to you, you can make decisions based on factors like workplace culture, your ideal schedule, advancement opportunities, salary, and benefits.
3. Your Next Job Will Likely Pay More
Have you been working in your current job for a while? Even if you have been getting raises over time, it is a great idea to remain open to other options. Employers who are in immediate need of help are likely to pay signing bonuses and higher salaries than what they paid a few years ago.
4. Not Every Position is a Match
One of the most important reasons to truly invest in the job searching process is that not every job is going to be the perfect match for you.
If you just go out and take the first job that you find, you are less likely to achieve the workplace satisfaction that you have the potential to have.
Look for something that offers a good work-life balance, a positive workplace environment, opportunities for you to advance in your career, specialized training for those who want it, and a competitive salary that allows you to feel satisfied in your career.
Settling for the first job that comes along simply isn't a good strategy when you have so many options in a booming job market.
5. Your New Position May be Far More Flexible Than Your Current Job
For years, we have been predicting a rise in workplace flexibility. Now that is more true than ever.
Employees are looking for flexibility in scheduling, location, and benefits. Many people found that they loved the freedom of remote work, while employers found that some positions are a great match for remote work. If productivity remains the same (or increases) and overhead goes down, what's not to love about your workers being somewhere else?
Employers that are adapting to new demands and preferences in the workplace are creating remote positions and hybrid teams where people who thrive on remote work are able to switch to long-term telecommuting.
6. The Job Market Isn't Slowing
This current job market isn't going to undergo any major pattern changes anytime soon.
You can expect to continue to see lots of available positions for the foreseeable future, especially in industries like warehousing and manufacturing.
This means that you have some time to figure out the next steps you want to take in your career. We don't recommend waiting too long before taking those next steps, though, because companies are hiring people as quickly as they can. You may be able to find a job without too much trouble in this market, but finding the right job takes time and effort.
Liberty Staffing Can Help You Find a Great Job!
Working with a staffing agency is a great way for people who are in the middle of a job hunt to find their ideal next position.
Liberty Staffing can match you with a local employer who meets your specific employment needs. Temporary or permanent positions, full time or part time, entry-level or beyond–we are happy to help you move forward in your job search!
Our network of highly experienced staffing professionals can ensure that in this booming job market, you can wade through the large numbers of open positions and find the ideal job for you.
Contact Liberty Staffing Services today to learn more.