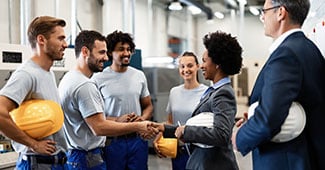 Onboarding temporary workers looks different than onboarding permanent employees. Similarly, onboarding warehouse and industrial staff looks different than onboarding in other industries, like offices, sales, and customer service.
There are countless benefits to hiring temporary employees in warehouses and industrial facilities. If you're looking for temp workers to meet the staffing needs in your facility, reach out to Liberty Staffing today.
What can you do to make your onboarding process run as smoothly as possible?
1. Model Excellent Communication from the Start
The best way to help your new hires to communicate well with you is to model the behaviors you want to see. Clear, concise, and punctual communication from management is vital. Temporary workers sometimes feel disconnected from their coworkers and managers because they don't feel like they're a full member of the team.
Help your new temporary hires feel included and informed! Communicate well with your new hires and help them know where to go, when to be there, and what to expect at each new step in their onboarding process.
2. Promote Inclusion at Every Step
Do you want your workers to feel connected to their workplace? Important to the company? Part of the community? Of course! When employees feel included and connected, they are happier and more productive. In our experience, they are also more likely to become great permanent employees if they feel like they have been included even while they were temp staff.
3. Consider Your Onboarding Processes from a Newcomer's Perspective
Sometimes, onboarding processes get stale. When it comes to making improvements and changes, there is nothing in your processes that shouldn't be on the table. Do your processes confuse outsiders? Are you asking new hires to do the same thing over and over again, like filling out form after form with the same information? Are any of your onboarding processes outdated because of how the pandemic has changed your day-to-day operations?
Keep an open mind as you review your processes, and be open to making changes as needed.
4. Set Expectations for Your New Workers
There are a lot of unknowns whenever someone starts a new job. What can you do to set expectations for your new hires?
How consistent is the work schedule in your warehouse or industrial facility? How much flexibility is there for workers to change their schedule if necessary? What are the expectations regarding uniforms, shoes, and anything else related to appearance or PPE?
When do your employees get paid? When will your new hires receive their first paycheck? What benefits, if any, are temporary workers eligible to receive? These are all questions that temporary workers need to know. Providing the answers upfront is incredibly helpful!
5. Develop a Mentorship Program
A mentorship program pairs new hires with people who have more experience within the company. You can take a few different approaches to creating a mentorship program. One option is to pair your new worker with someone who has the exact same job description. That way, they have someone to talk to and learn from who has experience with the day-to-day job tasks.
Another approach is more holistic in nature. Instead of matching people up by job description, connect people by personality or shared goals. If the goal is to make sure that people feel connected to the company, then it doesn't matter what position each person fills. What matters is building a relationship with someone else in the business.
You can develop buy-in by launching a program that matches new hires with established workers right away. This also provides people with information about how to transition to a permanent position if that's what they want to do!
6. Hire the Right People
Successful onboarding starts way before day one. It starts with your hiring process. When you're hiring temporary workers for a warehouse or industrial facility, you really have to focus on finding the right people.
For every position in your facility, you need to seek out the right match. Even in times when you are feeling the pressure of being understaffed, it is still so important to take your time and find workers who fit your company's values and priorities.
The best way to onboard workers is to make sure that you've hired great people to fill your open positions! If you're struggling to find or retain the best team, a staffing agency can certainly help.
Staffing agencies have connections far beyond the reach of the average warehousing or industrial company. We know how to find qualified, enthusiastic candidates who are looking for exactly what you have to offer, whether that's permanent workers, temporary staff, full time employees, or part timers.
Looking for Great Help?
Now is the time to reach out to Liberty Staffing to find the next members for your team!