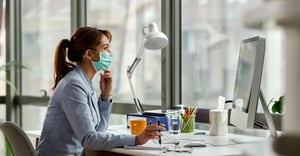 With lockdowns slowly lifting, we must remain careful and cautious when returning to work. The office might look a little different as you and your team make your return back to work.
What measures should you be taking to protect everyone's health and peace of mind? These steps can help you ensure a safe return to the office.
Create Distance with Barriers and Cubicles
In recent years, many workplaces moved away from cubicles to a more open-concept layout. While there are reasons to appreciate open-concept offices, they can accelerate the spread of illnesses.
You might consider reinstating cubicles, at least temporarily. Barriers of any sort can help limit spread, since they keep one employee from coughing or sneezing directly on someone else.
If you can't add barriers quickly, then consider asking the team to spread out. This could mean only a few employees return to the office at first, then bringing more of the team in later. Shift work might also be a consideration. Having fewer people in the office together allows for more space for proper social distancing, as well as reducing the risk of germ transmission.
Step Up Sanitation and Cleaning
Unless you're occupying the office by yourself, you're still sharing the space and air with others. This increases the risk of virus transmission.
One of the best things to do is increase cleaning and sanitization. Ask employees to wipe down their desks, keyboards, and other items regularly. Even if they're the only ones using it, viruses and bacteria can survive for quite some time on surfaces like plastic and metal, which increases the risk they might harbour the virus after an employee comes into contact with someone else.
Some items are shared and touched by others in the office, so increased sanitization protocols will help your team limit spread and reduce their risks.
If you have an outside janitorial team coming in, you can also increase deep cleaning and sanitization protocols.
Ask Employees to Keep Food and Drink to Themselves
Many offices include shared resources in a communal kitchen, but this is a great environment for the spread of viruses.
Instead, ask your employees to prepare their own food or drink and bring it from home. They should avoid items that need to be refrigerated or heated up, if possible. If they need to use a microwave or the fridge, ask them to take precautions. Wipe the fridge door down before opening it and after closing it.
Even coffee should be brought from home if possible. You may want to discourage employees getting takeaway or delivery from nearby restaurants as well.
The Air You Breathe
Viruses like COVID-19 and others are largely spread through germs travelling in the air. When you share space with others who are sick, you're at greater risk of being infected. This is especially true if someone coughs, sneezes, or spits. Transmission can happen through normal, everyday conversations.
If it's possible, try to air the office out. This could mean opening windows or doors to let fresh air in from outside. Of course, not every office can open up the windows or prop open a door, and you may want to have the air conditioning on as summer temperatures hit. Consider opening up the office overnight if possible.
As an additional precaution, ask employees to wear masks. This is especially important if you can't air the office out at all. Masks will reduce the transmission of the virus into the air in the first place, helping everyone stay safer.
Finally, be sure to communicate to your employees the precautions you're taking, and ask them for their cooperation with new measures. Everything you do at the office is a team effort, and office safety is no exception.