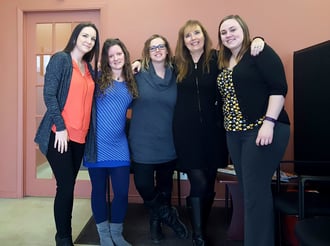 Liberty Staffing's branch in Arthur knows their applicants, assignment employees, and clients very well. Because Arthur Ontario has such a small town feel, Liberty Staffing strives to know everyone on a personal, first name basis. We make it a priority to get to know you, your preferences, and personality, so that we can help you find the job (or employee) that fits best.
However, with all of our focus on you, we don't often get a chance to tell you about us! Here is some information regarding our Arthur office and staff members.
(Pictured from left to right: Nicole Alexander, Marie Meyer, Rachel Marriott, Nicole Martin, and Elizabeth Branco).
Liberty Staffing's Arthur office was first purchased and established in 2002, and was previously known as S.O.S. Staffing Solutions. Liberty Staffing provides temporary, temporary to permanent (try before you hire), and permanent staffing solutions to businesses within industrial, office, and warehouse industries.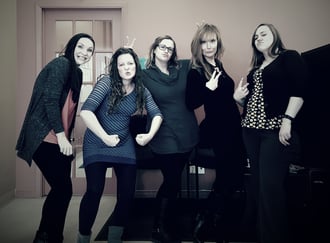 Our Arthur office is located at:
480 Smith Street, Unit 3
Arthur, Ontario
N0G 1A0
Phone: 519-848-2736
Toll free: 1-866-996-9915
Who will you meet at our Arthur location?
Nicole Alexander
Nicole is a Client Care Specialist at Liberty Staffing Services. Previous to becoming a Client Care Specialist at the Arthur office, Nicole was a Support Representative at Liberty Staffing's Listowel branch. Nicole enjoys getting to meet new people every day, and coming across different skill sets. In her time with Liberty Staffing, Nicole has had many personal success stories, and is always looking to help in any way that she can. She also enjoys building on the relationships of those who register in the office to make their experience the best it can be. In her free time, Nicole participates in fitness challenges to raise money for charity. She describes herself as a fitness aficionado. Currently, Nicole is training for a triathlon in the upcoming year. When she's not training, Nicole enjoys spending time with her family on their farm.
Marie Meyer
Marie began her career with Liberty Staffing as a Support Representative at our Kitchener location, then moved to a Client Care Specialist role in Waterloo. In 2014, she then became the Regional Business Manager for Liberty Staffing's Arthur office. In the four years that she has been with Liberty Staffing, her favourite part is being able to offer people work and help applicants get back on their feet when they have been out of the workforce for a long period of time. It is rewarding for Marie to see applicants attain meaningful employment because she feels she is making a difference in their lives. Marie notes that one of the greatest strengths of the Arthur office is that every applicant is welcomed with respect, honesty, and care. The Arthur office takes the time to discuss and understand what each applicant is looking for so that they can fit them into a position that's best. In this way, the Arthur office strives to make lasting connections between employees and clients. Outside of work, Marie enjoys hiking, dancing, camping, knitting, and spending time with family and friends.
Rachel Marriott
Rachel is Liberty Staffing's On-Site Representative. She has worked with Liberty Staffing for over two years. Rachel loves interacting with people. Every day she interacts with clients and workers on-site at job locations. Her main responsibility is to make sure that both our clients and assignment employees are happy. For one client, she travels on-site for the morning and afternoon shifts, to make sure that everything is running smoothly. When asked of the strengths of the Arthur office, Rachel expresses that the Arthur office is a well-rounded group of individuals who are genuinely personable. Outside of work, Rachel enjoys spending time with her family, and likes to camp and go up to the cottage.
Nicole Martin
Nicole has been with Liberty Staffing Services for thirteen years as a Business Development Representative. When asked of the favourite part of her job, Nicole expresses that she genuinely enjoys seeing and meeting with clients. Nicole builds strong relationships with her clients, and she has been working with some of her clients for thirteen years. Nicole notes that one of the reasons why Liberty Staffing is so successful is that we are honest with our clients, and our clients greatly appreciate this. Nicole lives in Fergus with her family. Her time outside of work is spent with her son (especially during hockey season), and date nights with her husband.
Elizabeth Branco
Elizabeth is the newest member of the Arthur Team. Recently promoted to Client Care Specialist out of the Guelph office, with her bubbly personality and go-get-'em attitude, she has quickly established a close relationship with the team and her clients. Every work day is different, and new challenges arise, which is Elizabeth's favourite part of being a Client Care Specialist. She greatly enjoys getting to know our applicants and assignment employees on a personal level. Elizabeth lives in Elora with her fiancé. She is very much a homebody, and likes spending time at home with family and friends. In her spare time, Elizabeth works with an animal rescue and fosters dogs.
The Arthur office is currently accepting new applicants. We have many great employment opportunities available. Follow our Facebook page at Liberty Staffing Services Arthur. We post information regarding job opportunities, events within the community, contests, and blogs from the Liberty Staffing Services website.
If you are looking to staff your business, contact our Arthur office today! We would love to hear about your business and staffing needs. Our flexible staffing solutions will save you time and money by finding the right people quickly.