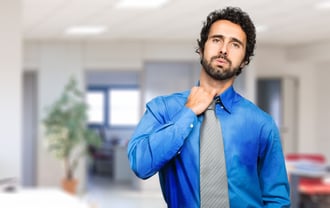 Summer is fast approaching, which means that the weather will continue to get warmer and warmer. If you are an employer, it's important to know the signs and symptoms of heat stroke in your workers and coworkers, in order to prevent serious illness and possible fatality.
Liberty Staffing Services provides temporary and permanent staff to office, warehouse, and industrial businesses throughout Ontario. Are you a client of Liberty Staffing Services? If so, we would like to provide you with some important information regarding heat stress. Whether you are running a business in an office, warehouse, or industrial setting, heat stress can happen at any work site and at any point in time.
As an employer, we strongly encourage you to become familiar with the signs and symptoms of heat stress. Here's what you need to know.
What is heat stress?
Heat stress is caused when working under hot, humid conditions, combined with hard physical labour, loss of fluids, fatigue, stress, and/or a pre-existing medical condition.
Heat stress can affect anyone, no matter the age or how fit the individual is. It can cause serious illness (such as heat stroke, heat rash, heat exhaustion, cramps, fainting, disability, and even death).
Signs and symptoms:
Heat stroke: When an individual has a high body temperature, hot and red skin, rapid pulse, headache or dizziness, they may have heat stroke. Signs and symptoms include a high level of confusion and strange behavior within the individual.
Heat rash: A red bumpy rash on the skin.
Heat exhaustion: Heavy breathing/panting, strong thirst, nausea, high body temperature, tired or weak limbs, and blurred vision.
Heat cramps: Occur in the muscles worked most during and after physical labour. Heat cramps are caused by humid conditions and dehydration.
Fainting: A weak pulse and clammy skin.
What can you do to reduce and control heat stress in your workplace? Here are some helpful tips:
If jobs are required to be completed in "hot zones", schedule the tasks during cooler times of the day.
Use air cooling systems accordingly.
Provide employees with air conditioned areas and cooling stations throughout the work day.
Establish frequent breaks for workers and remind them to drink every 20 minutes.
Advise employees and coworkers to wear light clothing (in colour and weight) on hot/humid work days. Clothing which allows ventilation, and sweat evaporation are ideal in hot weather conditions.
Every individual should wear sunscreen.
Create a buddy system. Heat stress often occurs when an individual does not notice their own symptoms.
Educate your employees about the signs and symptoms of heat stress in the workplace.
Heat stress should not be taken lightly. If heat stress occurs in your workplace, please seek medical attention immediately.
Need more information about heat stress? Visit the Ontario Ministry of Labour website.