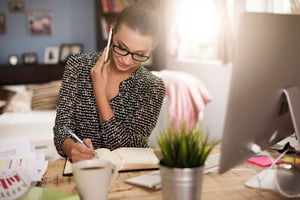 If you're headed into a job interview, you'll want have your resume and a couple of references handy. After all, your interviewer may ask for references, and you don't want to seem like you're unprepared. Not only that, but having references which give positive feedback of your work ethic can go a long way. Hearing positive input from your references could give you a leg up on your competition, and could persuade the employer to hire you.
Having a list of three references is standard. There is a certain etiquette to asking someone to be your reference. At Liberty Staffing Services, some of positions require references. We would like to give you some tips on how you can ask and successfully obtain references.
Choose the Right People
When you're compiling your list of references, make sure to choose people that you believe would speak about you in a positive light. Asking a previous employer that fired you to be your reference is probably not the best idea.
Choose coworkers and supervisors that would speak highly of your work ethic, skills, and teamwork.
Formally Ask
Once you have three people who could be your reference, get in touch with each and formally ask them. By formally, we mean asking politely through a professional platform. We don't advise texting your previous employer using slang, or calling them at home.
Email your contacts through their work email address. Or, you can call them at their office during business hours. Keep your correspondence as professional as possible. We're sure that your references will to return the favour, and offer a professional viewpoint of you to the employer.
Contact in Advance
It's very important to contact your references well in advance of your scheduled interview. The last thing that you want to do is contact a potential reference the day before your interview, because what if they don't get back to you in time? You can't put down their name on your reference list because they haven't given their consent. You'll be back to square one, with few references (or none) to mention.
Many people in the working world have busy schedules. The more time you can give to a previous employer or coworker to answer your reference request, the better. If you have a good, strong connection with these people, we're sure they would be happy to be your reference, but you'll have to give them the time to do so.
Follow Up Before and After Your Interview
Once your contacts have agreed to be your reference, your reference list should be ready to go for your interview. Give your contacts the date and time of your interview beforehand. That way they'll have an idea of when they could be getting a call from the employer.
It's a good idea to give a quick heads up to your contacts after your interview as well, especially if the employer states that they will be contacting your references during the interview process.
Need more reference tips? Contact us today!